- Kris Aquino finally broke her silence after she was accused of wearing Imelda Marcos' diamond necklace
- The youngest Aquino sibling said that her necklace was not made of diamonds but of cubic zirconia
- The actress said that the truth is on her side- including the receipt of the necklace
After all the viral news about her wearing one of the precious jewelries of former First Lady Imelda Marcos, actress and host Kris Aquino finally broke her silence and denied the issue.
READ ALSO: Duterte expected to sign smoking ban order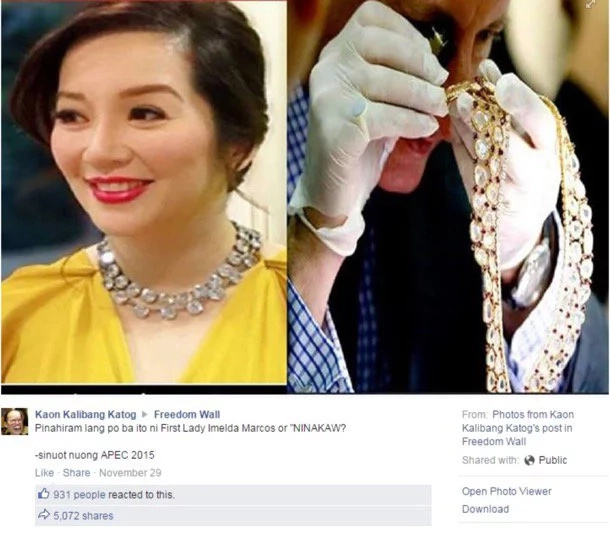 The issue started when the actress was seen wearing a necklace that looked like it was made from diamonds during the Asia-Pacific Economic Cooperation (APEC) Summit here in the Philippines last year.
Many fake news site posted the photo of the youngest Aquino sibling wearing the necklace, which was one of the sequestered jewelry collection of the Marcos family.
The said collection of precious jewelries has been under the care of the Bangko Sentral ng Pilipinas (BSP).
READ ALSO: Pressure piles on as De Lima, 5 others were placed on Immigration lookout
Enraged Aquino said, after getting tired of the fake news and bashing, "It seems you don't want me to stay quiet and your trolls want to keep perpetuating lies about me."
She added, "Duh? The necklace I wore was made from cubic zirconia and silver- hindi po diamonds, in other words fake sila although Bottega Veneta naman (not diamonds, in other words they are fake although they are bought from Bottega Veneta.)"
Moreover, Aquino stated that the truth is on her side and that she had the credit card receipts of her necklace. She also warned her bashers to stop spreading the fake news.
READ ALSO: Lawmakers ask who between Sebastian and Sanchez is lying
"And hindi ko na problema kung yung pagnanakaw ng iba trip nilang ibintang/pagtakpan using me," she said. (It is no longer my problem if other people want to use/blame me to cover what the others stole.)
Meanwhile, the issue has long been denied by Presidential Commission on Good Government (PCGG).
According to PCGG Commissioner Andrew de Castro, "It's impossible to have been taken from the Central Bank vault and returned just in time for our appraisal the week after. It looks completely different."
Source: Kami.com.ph