- The online community went crazy over a wedding reception video showing a groom slapping his bride
- The groom slapped his bride after he got annoyed with the woman's playfulness at the wedding reception
- Netizens urged the woman to stay away from her husband to prevent domestic abuse
A video of a groom slapping her bride at their wedding reception has gone viral, with the online community outraged by the man's violent tendencies towards his new wife.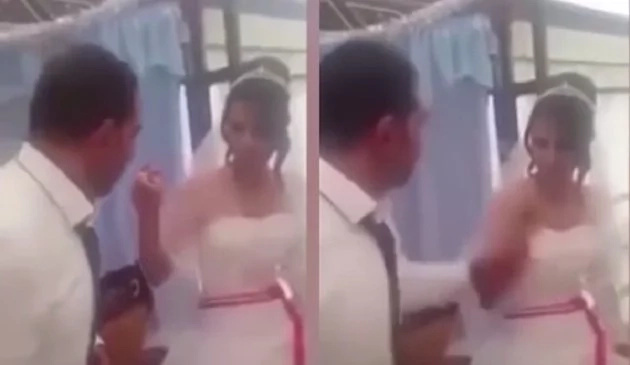 The video begins with the groom feeding her bride with a piece of their wedding cake. When it was the woman's turn to feed her new husband, she decided to tease him by taking the fork away as he tries to put the piece of cake in his mouth.
READ ALSO: Asian wrestles with python that just swallowed 2 animals
This playful attitude did not sit well with the very serious groom. He suddenly and violently slapped the hand of her bride to the shock of the woman and all of the guests at the wedding reception.
Netizens slammed the groom for showing violence towards his bride in public.
"Grabeng lalake. Sa harap mismo ng pamilya ng babae ginawa yan. Pano pa kaya kapag silang dalawa nalang?" a netizen pointed out.
(This guy is too much. He did that to the woman in front of her family. What else would he do to her in private?)
READ ALSO: Chinese motorists get scared by UFO sighting
Other netizens understood why the man lost his temper but said that it was not an excuse to hurt his new wife.
"That woman did get annoying with her fork game but that's no reason to react in such a manner," an online user wrote.
Several online users also urged the woman to stay away from her new husband in order to avoid getting abused.
"She is better off without this jerk....A life of abuse happily avoided!!!!!! Hopefully she will get out before it gets bad," a netizen advised.
SHARE this shocking video with your loved ones!
READ ALSO: Dad accidentally injures his child while playing at the mall
Source: Kami.com.ph