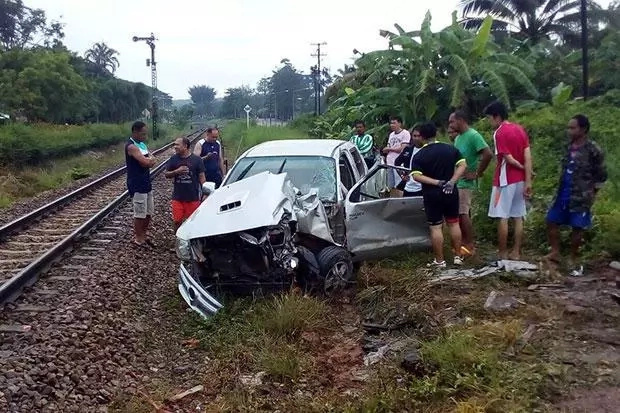 - CCTV captured the horrifying moment a train crashed into a pickup truck carrying a family
- In the footage we see that the truck somehow managed to pass the gate and is creeping towards the tracks when the train tears into at high speed sending the truck flying
- Thankfully all three passengers survived the accident
This shocking CCTV footage captures the moment an absent-minded truck driver got run over by a speeding train.In the video we see the truck inching forward toward the train track, and for some reason the railway line crossing arms were raised.
The pickup truck keeps on inching forward as if unaware of the approaching train. All of a sudden the giant train slams into the truck ripping its hood apart.It seems the driver is unconscious or shocked from the sudden impact.
The train just keeps on shredding the truck's body to pieces sending pieces of metal, plastic and liquids everywhere.It takes half a second for the train to chew through the truck's body and internals to its heavy duty frame.
READ ALSO: Dad built his daughter a ninja course to teach her the way of the shinobi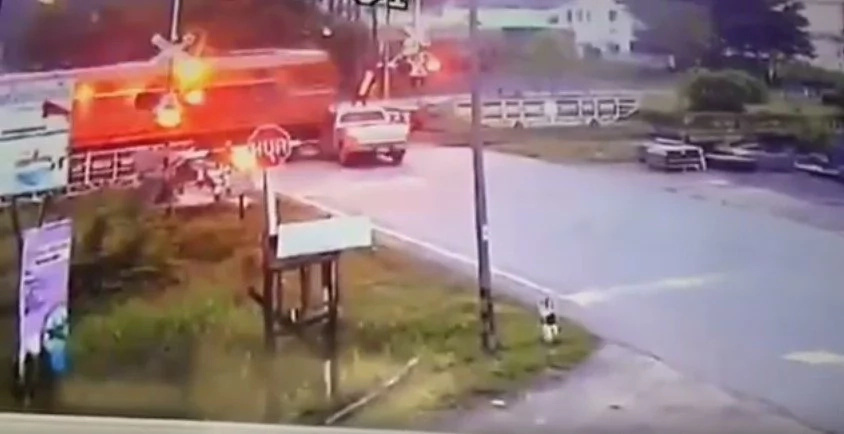 READ ALSO: Italian Mafia boss was hiding in his closet for years after a prison escape
The train catches the truck by the frame and sends it spinning around and throws it off the road. And the train just keeps on chewing the trucks bed until it gets to its frame again and this time it hurdles the truck onto its roof.
Reports indicate that the truck was carrying a family of three that all survived the terrifying crash. An elderly couple was driving their 14-year old nephew to another province in Thailand when they got into the horrifying accident.
The train driver says that the family was extremely lucky that he was slowing down to prepare to stop at a nearby station. If it weren't for that the impact would have been much more devastating.
Despite this the elderly truck driver believes that he and his family have escaped a gruesome death because his truck was adorned with protective amulets and blessings.
READ ALSO: Man stumbles upon a creepy shrine dedicated to missing people in the forest
Source: Kami.com.ph