- Star Circle Quest alumna Neri Naig-Miranda has been given another chance to have a child this 2016 after having a miscarriage last year
- Despite sharing what went behind each shot of her maternity shoot, netizens criticized her for disclosing too much details of her modest lifestyle
- She responded to her naysayers that to each his own, ending her statement that all should spread positive vibes instead
A month before she is due, actress-turned-entrepreneur Neri Naig-Miranda has decided to get into the photo shoot bandwagon and posted some outtakes on her Instagram account yesterday.
Accompanying her photos were long captions behind each shot, wherein she shared her resourcefulness in her first shot.
She shared that the shoot was done in her house, a friend of hers did her make-up, and she did not hire a stylist to direct her on what to wear for each shot. She also disclosed that she wore a dress she found at a thrift store and cut her own bangs for the shoot.
READ ALSO: Mocha Uson fires back at Agot Isidros harsh Duterte criticism
However, there were those who found her post a bit too much for their liking - they found it conceited of her to post about how 'humble' she was with her maternity shoot.
A user by the name of @jlouisemelona commented that Neri has a tendency to overshare her 'humble and simple' life. However, she clarified she was not bashing Neri but giving her constructive criticism.
Other netizens agreed with her, who noted that Mrs. Chito Miranda was being over-the-top with her simplicity.
READ ALSO: Research muna bago mag-comment! Dennis Trillo answers to arrogant netizen on his drug test result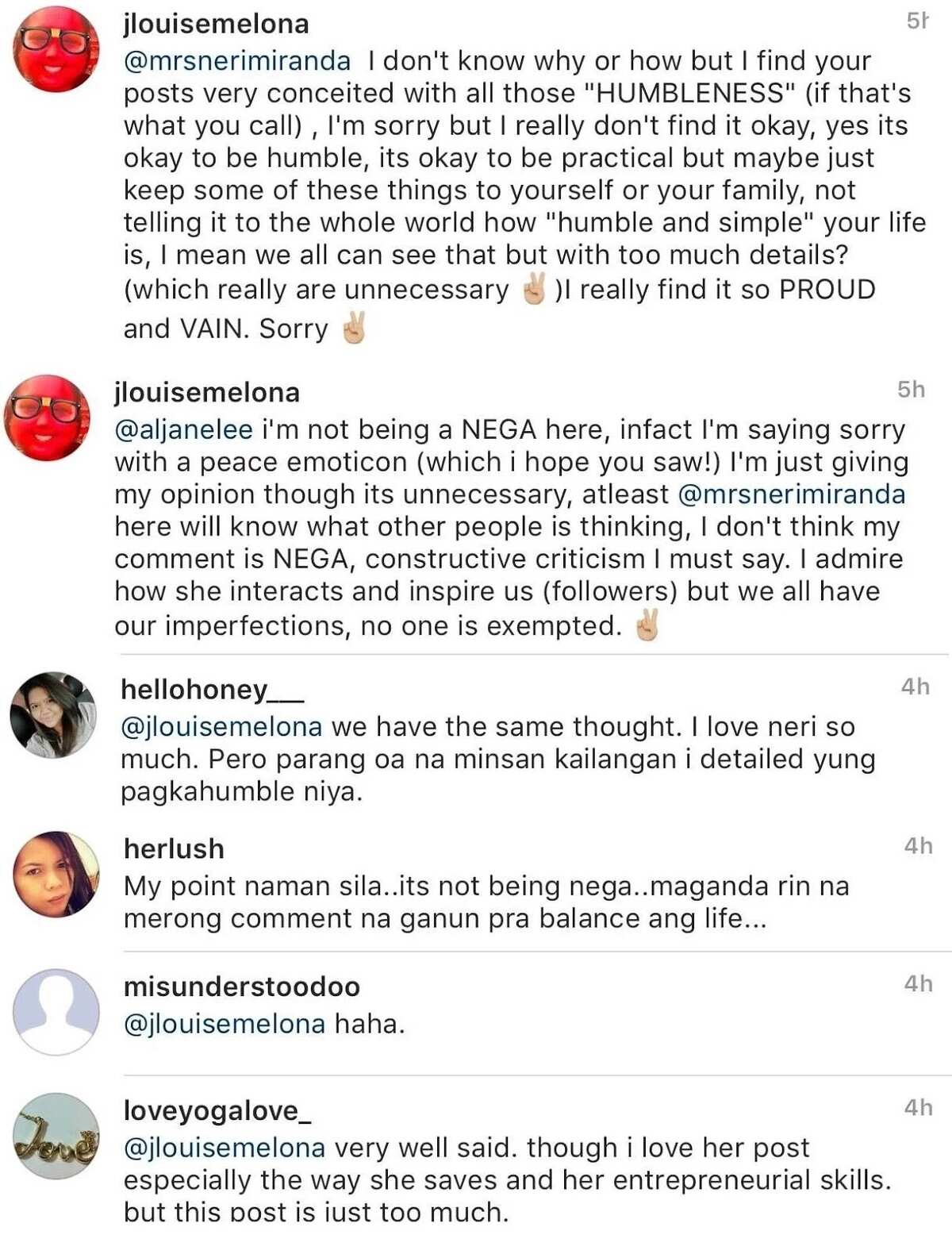 Neri responded to those who commented and agreed with @jlouisemelona that posting about her modest lifestyle makes her happy. She added that she does not live to please people and she does not live for their opinion. She ended her reply that all of us should just spread good vibes instead.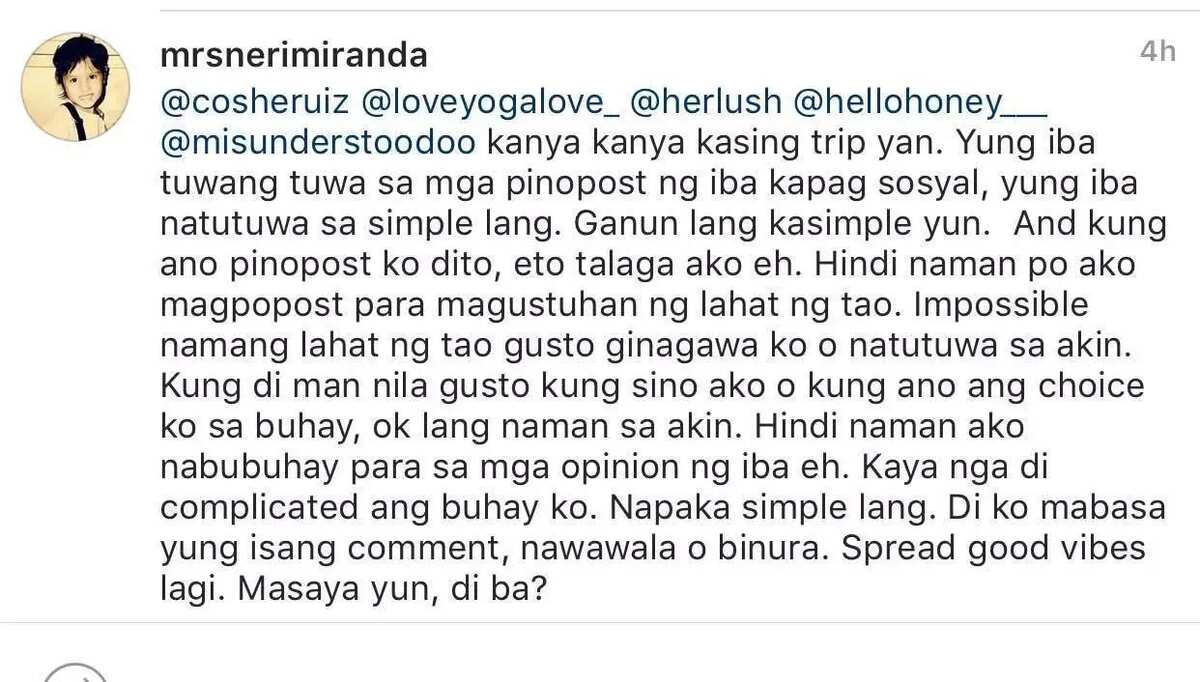 However, @jlouisemelona's comments have been deleted, which or which may not have been read by Neri.
More netizens sided with the actress as they had different reasons for defending her.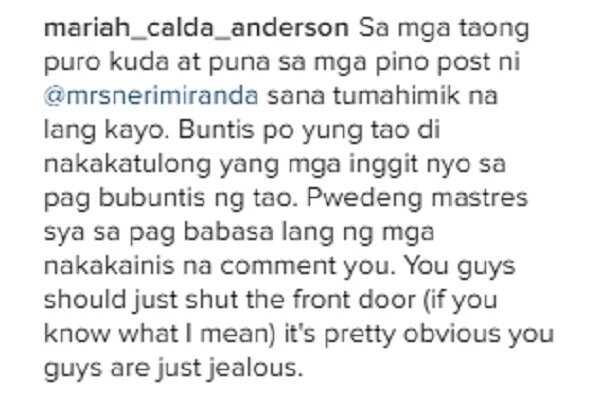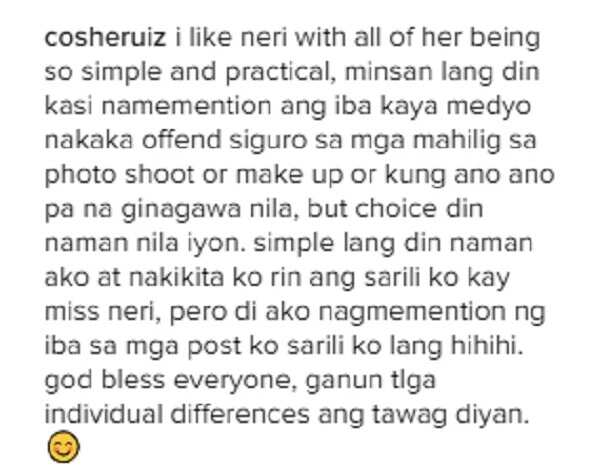 Not only was Neri criticized for oversharing her unassuming lifestyle, but for calling out others who do not share the same vision as hers. A user by the name of @her_name_is made her point across to the actress, who replied that she should reread her caption instead.
READ ALSO: Actress Agot Isidro bluntly calls Duterte a 'psychopath'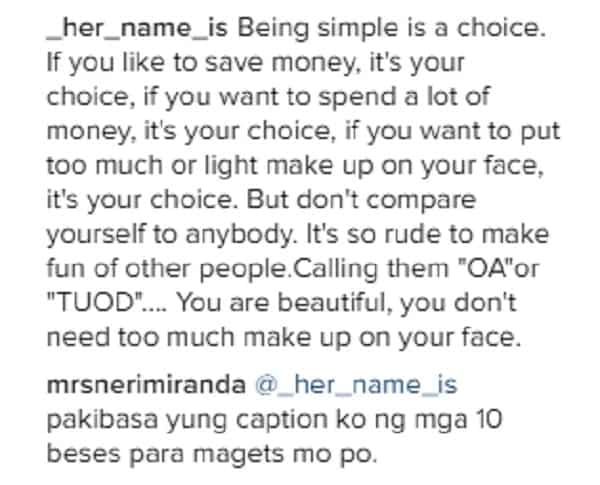 To the dismay of netizens who love to read the comments section, the user put out any possibility of a heated discussion with her reply.

Despite the good vibes she wants to spread with her posts, there will always be those who will criticize her for many reasons. Her next photos had long captions that responded to them, hoping that they will just enjoy life like she is doing right now.
Here are other photos from her maternity shoot, each with their accompanying short story-disguised-as-captions.
READ ALSO: Naniniwala kami sa forever! Cheska Garcia shares sweet anniversary message for Doug Kramer
READ ALSO: Weight does NOT martter! Loving boyfriend shares photo of plus size partner
Source: Kami.com.ph