- Actress Agot Isidro called President Rodrigo Duterte a "pschopath" in her Facebook post
-Agot criticized President Duterte for his statement telling the European Union and the United states to withdraw their international aid in the country
- Duterte said that the country would not beg for the EU and U.S.' assistance
Actress Agot Isidro just cannot contain herself and calls President Rodrigo Duterte a "psycopath".
Agot shared an article of Rappler about President Duterte's statement about the international aid of the European Union (EU) and the United States to the Philippines.
The article says that the president has warned the EU and the U.S that the country can survive without their help and that the Philippines would not beg for their help. He then told them to withdraw their assistance if they wish to.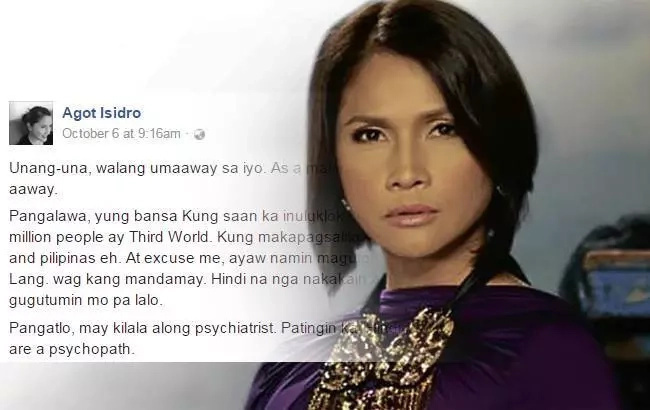 READ ALSO: Duterte's top 10 fails in 100 days
Agot was infuriated by Duterte's remark and said that no one is attacking him, and that he is the one attacking as a matter of fact.
She added that the Philippines, being a third world country, is not a "superpower" and that nobody wants to get hungry. She then told him to decide on his own without carrying the whole country with him.
Netizens were extremely shocked when Agot bluntly stated that the president isnot bipolar, rather he is a psycopath. She said that she knows a psychiatrist and asked Duterte to have himself checked.
READ ALSO: Duterte curses EU after criticism
One Facebook user saluted Agot for being brave enough to address her sentiments towards the president: "Ang tapang ni Agot Isidro! Wow. But hell yeah, she is damn right! Laban Agot! #LabanAgot"
However, one netizen was not pleased with Agot's post and even criticized her personal life: "Agot isidro unahin mo muna magkaanak bago ka ngumawa ni nde mo nga nasubukan mag jeep etc kaya wala kang alam sa nangyayari sa pilipinas..laos kana wag kana ngumawa pa."
A Facebook user commented a photo showing Agot with Vice President Leni Robreedo and wrote in the caption: "The TRUTH eto ..."
Agot's post gained more than 20,000 reactions and more than 6,000 shares on Facebook.
READ ALSO: Duterte blasts Obama to hell, EU to purgatory
Source: Kami.com.ph