Teodoro "Teddy Boy" Locsin Jr., the newly appointed Philippine ambassador to the United Nations (UN) is well known for the cutting remarks, usually tweets, that he has about anything and everything that matters.
While it is good that some people never seem to have any problems "calling a spade a spade", seeing all the appalling statements floating everywhere, one cannot help but be reminded of the power of words.
If you are wondering why this lesson on the power of words is directed to the new ambassador, here are 6 blunt reminders of instances when Locsin had been anything but ambassadorial in both speech and thought.
1. A month earlier, the journalist-turned-politician posted something similar via Twitter.
Just recently, the President drew flak for implicating that he can be the Philippines' version of Hitler and his drug war, the local Holocaust. Apparently, the thought had not been an original one.
2. He apparently hates the Filipino language.
Makes the curious wonder why he uses them when cursing, or why he's even in the Philippines. Let's list it under one of the mysteries of the world better left untouched.
READ ALSO: UN Ambassador says sorry and it was a f*cking joke
3. He supports and even proposes mass murder of Filipinos.
For the Akbayan party-list members, he probably won't make the best diplomat. For a diplomat, Locsin's words, "Kill all Akbayan members," is tinge with ill will and reek of too much violence as he wishes for Akbayan members' death in case the focus of their protests - China - retaliates against overseas Filipino workers (OFWs).
4. Curse words, in Filipino, are obviously fine with him.
While Teddy Boy Locsin show strong feelings towards using "Tagalog" in what he sees as intelligent discourse, it appears like he doesn't have any problem using them when cursing.
READ ALSO: Ang sweet! Charming cop promises forever to his girlfriend in front of President Duterte
5. To top it all, our new ambassador to the United Nations, Teddy Boy Locsin, is also sexist.
In response to a news wherein Senator Leila De Lima says warrant-less arrest are possible if the criminals are caught red-handed, the ambassador had stamped on the senator's statement by saying, "Shut the f*ck up" and calling her a "fat b*tch".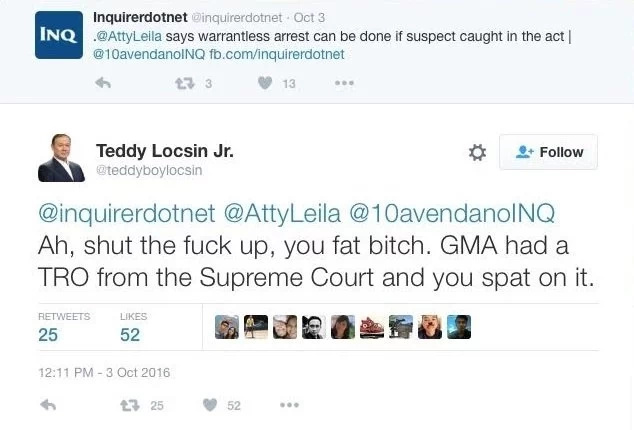 In light of the recent blunders by the new UN Ambassador and his boss, President Rodrigo Duterte, it might pay off for either or both of them to try the little exercise by the boy in the story entitled, "Nails in the Fence" and perhaps, pick up some lessons of their own.
If you haven't seen or read the story just yet, you may want to watch it here:
RELATED: 6 statements made by politicians that make Filipinos mutter 'Oh, Get F*cked'
Source: Kami.com.ph