EDITOR'S NOTE: This video contains themes and images that are not be suitable for minors. Parental guidance is strongly advised.
A short video showing a frail old woman getting hit repeatedly by her abusive caretaker has gone viral, triggering outrage in the online community.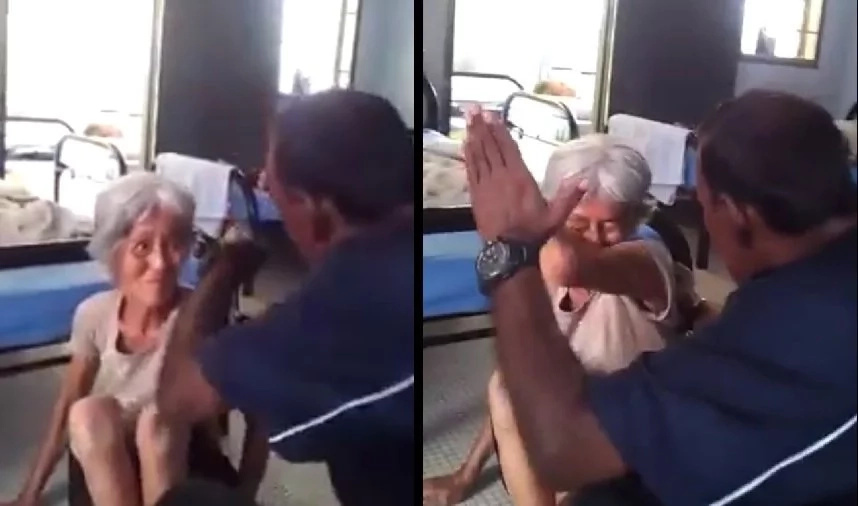 The video shows the caretaker telling the scared woman to get up. When she did not listen, the man started to slap her repeatedly.
The first blow was on her forehead and the next ones hit the back of her head. The old woman had no choice but to try to cover herself but she was not able to block the hits.
READ ALSO: Cashier defeats armed robbers in gunfight
Netizens were outraged by the actions of the caretaker towards the old woman, with many of them saying that our society has deteriorated.
"Look what's happening to this society? Yes it's all messed up. Where is the word kindness or respect?" a netizen asked.
Other netizens slammed the person who took the video for apparently not stopping the caretaker from abusing the old woman/
"To the person who took this video, how could you watch this heartless man smacking and abusing this old lady?" an online user asked.
READ ALSO: Pinoy street vendor applauded by online community
However, some online users theorized that the person who took the video was just gathering evidence against the abusive caretaker.
"Para sa nagsabi na imbes na videohan ay umawat na lang at magsumbong sa kinauukulan (To those who are saying that the person who took the video should have stopped the abuse and made a complaint to the authorities): tama po iyon. Pero (But) on the other side, kaya kinunan para maging evidence na may pagmamaltratong naganap (the reason why she took the video is to gather evidence on the abuse that has been going on)," the netizen pointed out.
SHARE this sad and shocking video with your loved ones.
READ ALSO: Pinoy gets killed with one punch during street fight
Source: Kami.com.ph