- Joenel Sanchez testified on the alleged relationship between De Lima and Dayan, the senator's ex-driver
- De Lima said she was hurt by the statements of Sanchez
- Aside from Dayan, Sanchez also testified that De Lima had also been close to Warren Cristobal after Dayan left her detail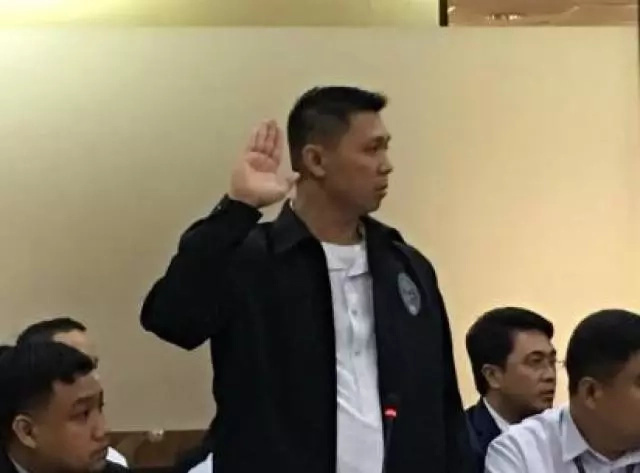 The former aide of Senator Leila de Lima, Joenel Sanchez, testified at the House justice committee hearing which seeks to find the truth on the drug trade occurring within the walls of the New Bilibid Prison.
While the probe was primarily about the existence of an illicit drug trade, members of the House of Representatives went out of their way to likewise investigate the alleged romantic relationship between Ronnie Dayan, former driver of Senator De Lima and the lady senator herself.
READ ALSO: 6 senators gave reactions to Duterte-Obama word war
According to Sanchez, who is now a member of the Presidential Security Group (PSG), and who simply read his affidavit during the inquiry, there exists a special relationship between De Lima and Dayan.
The anti-drug war of President Rodrigo Duterte has tagged both the lady senator and Dayan as among the primary persons involved in the drug trade at Bilibid.
While these were the allegations hurled against De Lima and Dayan, the Senator said that everything has been turned upside down.
It was during the stint of Senator Leila De Lima as DOJ Secretary that the dirty drug trade at the NBP was revealed and concrete action was taken. Despite this, De Lima is aghast why she is now being hailed as the "Bilibid drug queen."
In addition to this, the Senator is also wondering why Pres. Duterte is putting in a lot of effort and energy just to bring her down.
Previously, there was even an attempt to show the alleged sex video of De Lima during the hearing, a move spearheaded by Hon. Vitaliano Aguirre. Due to the clamor from lady officials and from various women's groups, the plan was not pushed through.
READ ALSO: Sen. Pimentel said the girl on sex video not a senator of PH
Now, the committee had opted to hear the testimony of Sanchez, which mainly involves telling the details of the alleged relationship between De Lima and Dayan, including the subsequent closeness of the lady senator to a certain Warren Cristobal right after Dayan was no longer in her detail.
De Lima, in response to the story of Sanchez said:
READ ALSO: Duterte remembers Roxas and insults him in the process
Source: Kami.com.ph