- Nine Australians that stripped down to their briefs in Malaysia were arrested and being investigated
- Tagged as Budgie Nine, the Aussies may face two years in prison for public indecency and insulting the nation with the intent to breach peace
- Australia is quite liberal with several nudist beaches and stripping down is nothing but normal
Nine Australians may face some jail time after they stripped down to their skimpy briefs designed with Malaysian flag.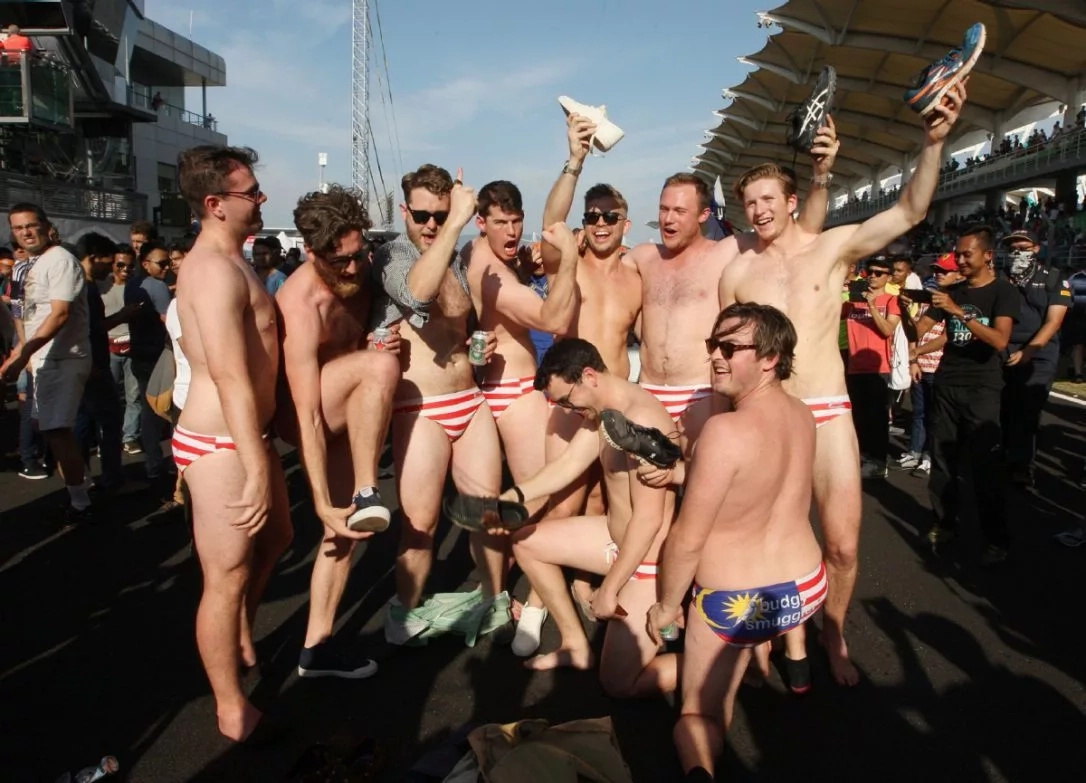 READ ALSO: A huge meteor crashed into Australia shaking houses and burning the sky
The Aussies, popularly known as the Budgie Nine, really know how to celebrate as they went down almost naked and drank beer from their shoes at the Malaysian Formula One Grand Prix in Sepang, Malaysia after Australian driver Daniel Ricciardo won the race. The nine Aussies caused a scene in conservative Malaysia prompting the arrest.
Having Malaysian flags on their asses did not sit well to the local people and felt insulted. According to the Malaysian police, the Australians were arrested and are currently investigated for intentionally insulting the nation and provoking breach of peace and public indecency. If proven guilty, the Budgie Nine may face two years in prison, a fine, or both.
The nine appeared in Malaysian court on Thursday fully-dressed. Australia's Department of Foreign Affairs and Trade First Assistant Secretary Jon Philp kept his word short for the media by saying that the fate of the Budgie Nine lies in the hands of the magistrate and the legal authorities.
READ ALSO: Dozens of giant snakes invade Australia terrorizing locals
Meanwhile, Racer Ricciardo, which triumph caused the disrobing of fellow Australians, said that the act is "pretty harmless". He added that he is sure that the nine Aussies did not mean to offend anyone and the act is purely celebratory and it is nothing but normal in Australia. While he respects the law of Malaysia, he also believes that the nine do not deserve any punishment
The nine Aussies were detained since Sunday. While Malaysian police appeals that their detention will be extended, Australian authorities are hopeful that the nine Sydney University graduates will come home soon.
This clearly shows the difference between the two nations. Australia is known for its liberal and easy going attitude. The country has several nudist beaches and stripping naked is nothing to be ashamed about. In contrast, Malaysia is a very conservative country that still follows old customary traditions.
READ ALSO: Filipina singer wowed Ronan Keating in X-Factor Australia