- A Facebook post from a netizen who shared her horrible experiences with a Grab Car driver has gone viral on social media
- The post features Facebook user Ruth Umali's experience with the smartphone application generated vehicle booking service
- The post now has thousands of shares from netizens who warned about being extra-careful about on-the-road transactions
The power of technology is giving way to a huge paradigm shift on how people behave under different circumstances.
If there's one huge change that this paradigm shift has created, it would probably be in the world of consumerism.
The idea that anyone can say something about a product or a service is pushing providers and manufacturers to change their approach.
READ ALSO: Amen para kay Kuya! Taxi driver teaches netizen the best thing to do when stuck in traffic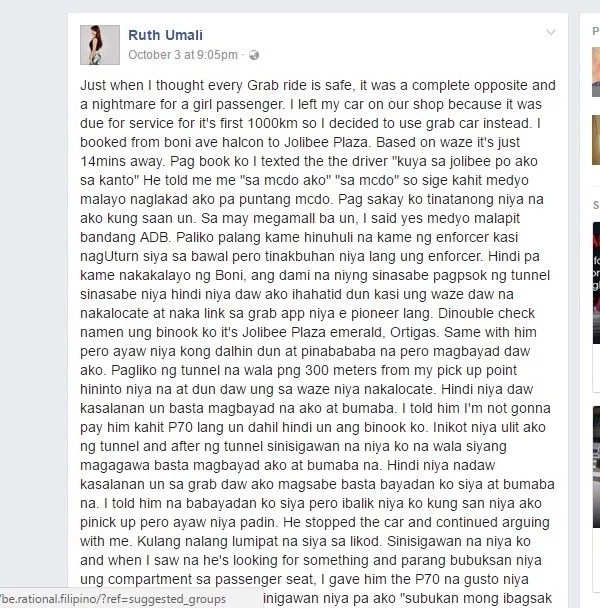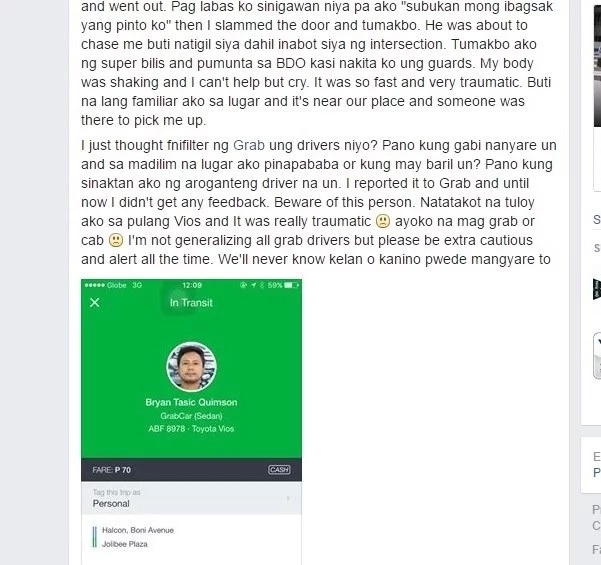 This is why popular brands are spending millions to make sure that they stay credible in the eyes of their consumers.
Today, considering the stiff competition in the market, businesses invest so much on their credibility which normally is from people's reviews of their products.
Imagine product reviews done person to person only that this time it's magnified with millions of people having access to it.
This is why, when we hear stories like this one, we know for sure that the brand and the business will be affected.
READ ALSO: Nakakaloka siya! Netizen captures the most handsome PAL flight attendant
A Facebook post from a netizen who shared her horrible experiences with a Grab Car driver has gone viral on social media.
The post features Facebook user Ruth Umali's experience with the smartphone application generated vehicle booking service.
The post now has thousands of shares from netizens who warned about being extra-careful about on-the-road transactions.
READ ALSO: Gwapo na, talented pa! Singer Michael Pangilinan wows netizens with powerful cover of 'Your Love'
Source: Kami.com.ph