The controversial President Duterte and the defiant Senator De Lima have been engaged in an ongoing war before they even won their respective posts in the recent elections.
But has the President's war against his most vocal critic gone too far?
Here are some of the wildest accusations he has thrown against his fiercest rival.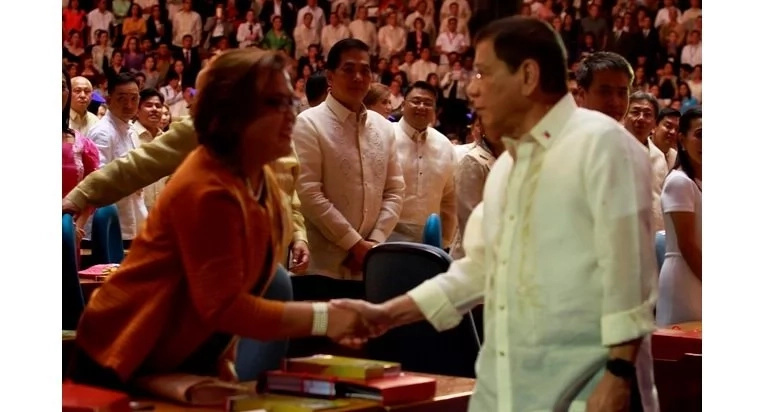 Drug coddler
Digong has dropped plenty of accusations against the senator, but the allegation that she protected the drug lords imprisoned inside the New Bilibid Prison might be the worst and most serious.
According to the allegations, De Lima received money from the drug trade inside the prison when she was the chief of the DOJ. The senator has vehemently denied this claim.
He also released a drug matrix which allegedly shows the government officials and individuals involved in the drug trade. Later, the President sent his apology to two of the names included in the matrix because the info about them was erroneous.
READ ALSO: Netizens' comments that are bolder, better, funnier than Du30's original rants
Romantically linked to former driver
The President once said that De Lima has no right to object to his drug war since she leads an immoral and adulterous life.
Digong accused the senator of being romantically involved with her former driver Ronnie Dayan – who he also accuses of being involved in drugs.
Sex video
This accusation is considered by many to be the most "below-the-belt" accusation of Rody against De Lima.
The President has expressed his belief that the woman in the controversial sex video is De Lima, despite the great number of people – including his ally Koko Pimentel – believing that the video is fake.
READ ALSO: 6 politicians gave their reactions on the Duterte-Obama word war
Bank account
The new administration has also accused De Lima of ordering her former staff members to deposit millions of pesos received from drug lords.
However, the supposed staff members who were supposed to testify later said that they De Lima never ordered them to do so.
Politicking, posturing
The senator has been one of the most vocal critics of Duterte especially when it comes to the alleged extrajudicial killings of his war on criminality.
However, Digong has claimed that De Lima is only criticizing his war on crime due to "politicking" and "posturing" and not due to her concern for human life.
Disclaimer: The views and opinions expressed in this article are solely those of the original author. These views and opinions do not necessarily represent those of Kami.com.ph, its editors, or other contributors.
READ ALSO: VP Robredo advises President Duterte
Source: Kami.com.ph