P.I.O. Pasig posts 'conyo' advisory
- A traffic advisory posted on Pasig Public Information Office Facebook page left netizens abuzz
- The said post was about the moderate to heavy traffic that will be expected along C5 Bagong Ilog going to C5 Kalayaan
- The post made netizens laugh because of the page's 'conyo' way of announcing traffic
Most of us Filipinos start their day extremely bad as traffic starts to get on our nerves every single day. Some just try to busy themselves with other things while waiting for the green light while others just can't stand it and just erupts on the spot. But still, there is nothing we could do.
However, a Facebook post seems to announce heavy traffic in a funny manner that people tend to laugh than get annoyed.
The Pasig Public Information Office Facebook page posted a traffic update, saying that moderate to heavy traffic will be expected along C5 Bagong Ilog going to C5 Kalayaan. Expected that netizens will flood the post with angry comments, the opposite happened as laughing netizens shifted their attention to the post's 'conyo' way of announcing the reason of the traffic.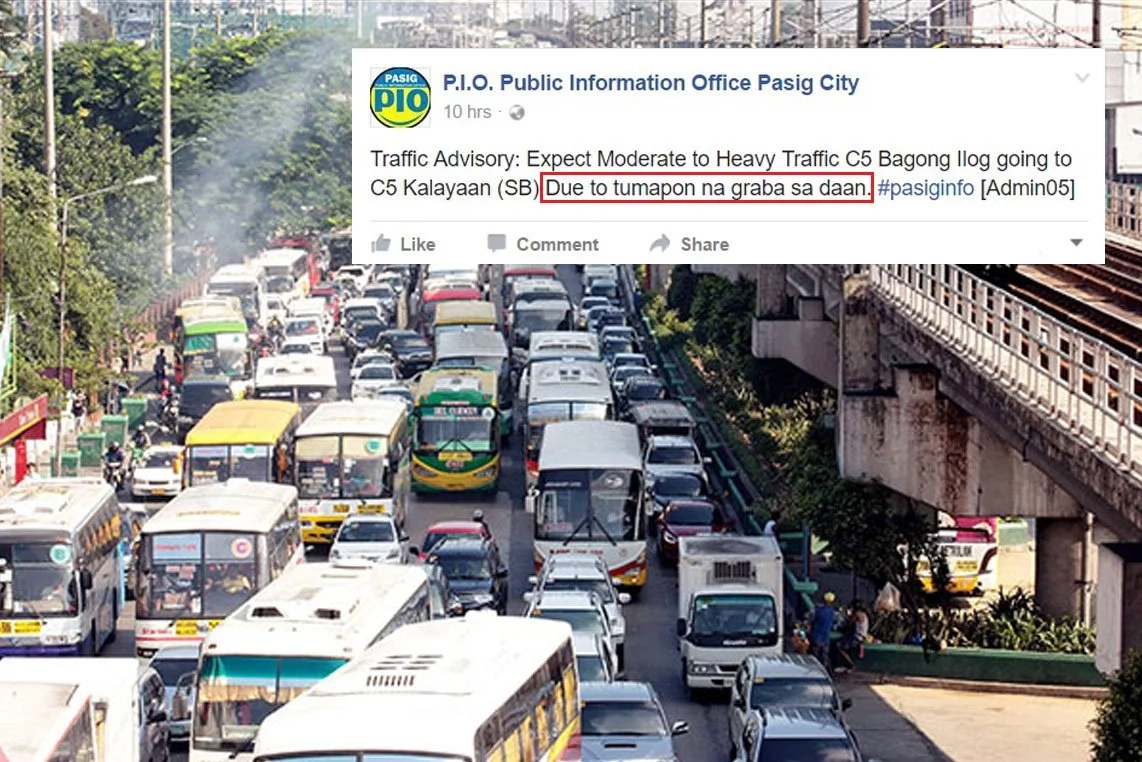 READ ALSO: 10 tweets that prove Filipinos are the funniest!
The post says: "Traffic Advisory: Expect Moderate to Heavy Traffic C5 Bagong Ilog going to C5 Kalayaan (SB) Due to tumapon na graba sa daan. #pasiginfo [Admin05]"
Netizens were particularly diverted to the statement "Due to tumapon na graba sa daan" and found very funny and, well, 'conyo'.
Here are some of the netizens' funny comments:
READ ALSO: PHOTOS: Funny Pokémon Go depicting PH celebrities
Gerome Valdez: "Grabe naman kasi this graba why you make harang harang early in the morning... *sips Starbucks Caffè Latte*"
Melvin Perez: "Nyeza.. Girl, this is dahilan why you are na-late kaninang morning"
Rod Moreno: "Tusok nalang the fishball while in traffic so you're not gutom haha"
Churchill Repedro: "Ermegerd I told you may tumapon na graba sa daan but you didn't listen to my told Jhe"
Wambui C Gitau: "Gem so this was the reason for the mabigat na traffic this umaga #icannot."
READ ALSO: Your most Tita questions on Pokemon Go, answered
Source: KAMI.com.gh