- A post by a Facebook user detailing her encounter with a taxi driver who taught her an important lesson has gone viral
- The post recalls Facebook user Celissa Joy Gammad's encounter with the taxi driver who taught him to read the bible when stuck in traffic instead of stressing out thinking about it
- The post now has thousands upon thousands of likes on social media from netizens who were inspired by the story
While many people strive to study technical things that books offer, there are those who use their tools to discover life hacks.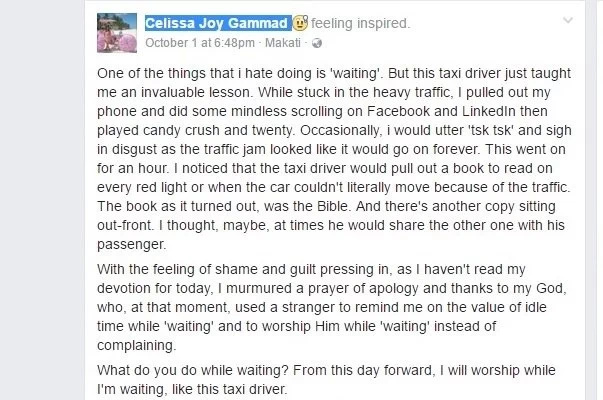 These are basic lessons that we can use in our day to day living. This is also why; websites that offer these types of materials are always sought after by media consumers.
The advancement in technology paved the way for a faster flow of information across borders which mean that staying to be ignorant is a choice.
READ ALSO: Nakakaawa naman siya! Inspiring young Pinay sells peanut butter after school to help unemployed parents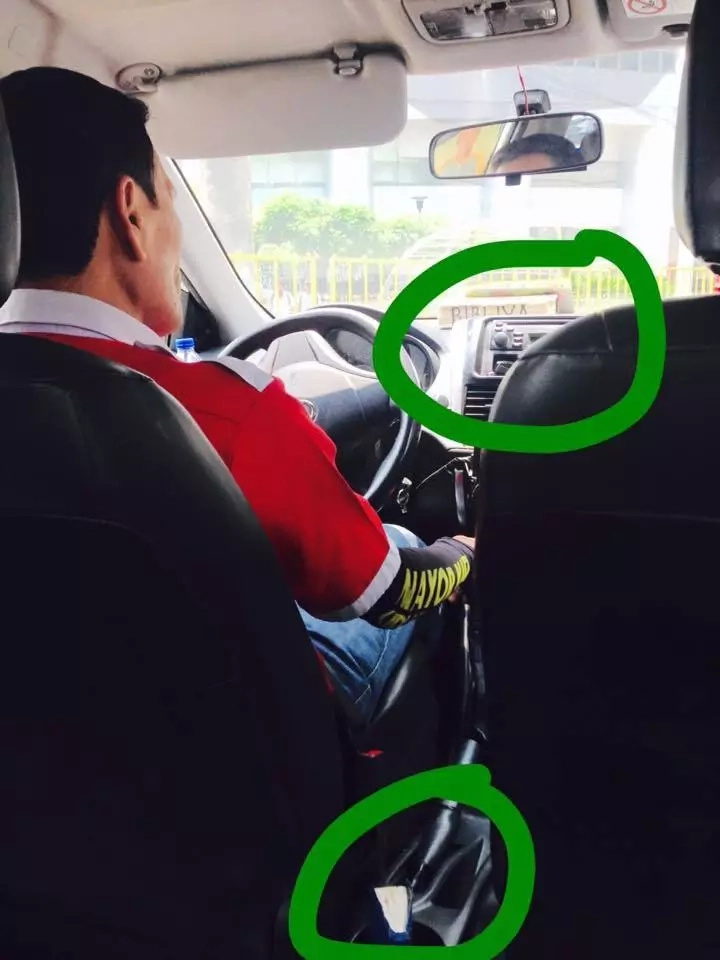 In the Philippines, particularly in urban areas, day and night, we see people ranting about the traffic situation.
This is because of the overwhelming number of vehicles clogging the roads in most time of the day.
As a result, people become less productive. They're wasting so much time which they could have used for work. This taxi driver, however, wanted us to learn something we can do while beating the stressful Metro Manila traffic.
READ ALSO: Ang sakit bes! Young Pinoy in tears after painful break-up with ex over the phone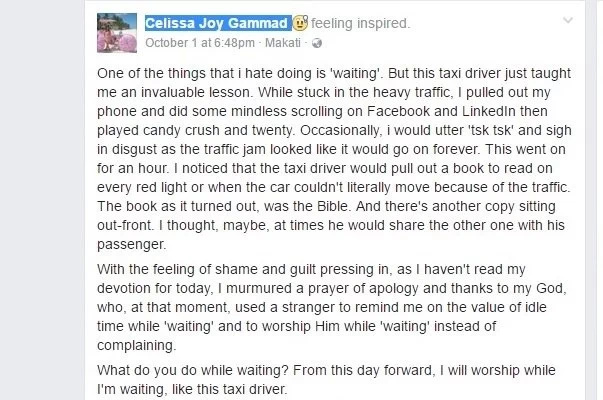 A post by a Facebook user detailing her encounter with a taxi driver who taught her an important lesson has gone viral.
The post recalls Facebook user Celissa Joy Gammad's encounter with the taxi driver who taught him to read the bible when stuck in traffic instead of stressing out thinking about it.
The post now has thousands upon thousands of likes on social media from netizens who were inspired by the story.
READ ALSO: Namatay sa sarap! Fighting cock dies after 'making love'
Source: Kami.com.ph