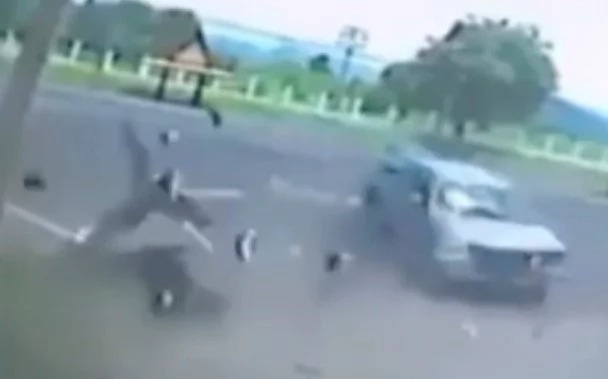 - A dashcam captured the moment a woman's soul left her body after a fatal motorcycle accident
- She was speeding on the right lane when she smashed into a pickup truck and died on the spot
- A trucker's dashcam shows how a black silhouette is standing above the dead body and soon dissapears
A dashcam in Thailand caught the incredible moment a woman's soul left her body.
The woman was riding a motorcycle when she slammed into a pickup truck on an intersection. She died instantly as a result of the accident.
READ ALSO: A mom shaves her screaming daughter's head for making fun of a cancer patient
A truck driver was witness to the whole accident and it was all recorded on the dashcam of his truck. The trucker jumps out of his truck and runs to help.
That's when the dashcam captures incredible footage. We can see how the motorcycle accidents soul is standing above her body and then dissapears.
READ ALSO: Сrazy New Zealander kills octopuses by biting them between the eyes
READ ALSO: Drunk girl in bikini gets tased and escapes the police like a beast
Source: Kami.com.ph