- China has once again turned the stomachs of many netizens as a video of baby mice being eaten alive circulated
- In the video, a platter was full of newly-born mice which were picked and put on a separate bowl
- A Chinese man took a video of himself as he put the mouse in his mouth
Many people usually go crazy whenever there is a rat around. It is either a person will find a way to get away from the rat or find a way to get rid of it by killing it. But people in China are not only being friendly to the rodent, but it is also eating its newborns.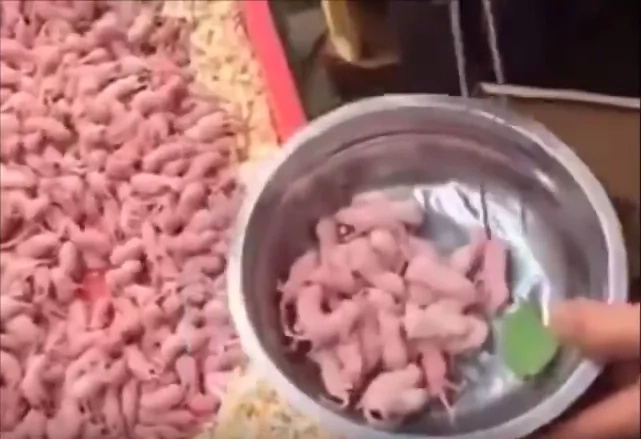 There is no question to man's constant search for new delicacies to taste and China is a country known for that.
READ ALSO: GrabCar passenger shares her most unforgettable ride
In a video posted by Animal Liberation Worldwide on Facebook, it was seen that a platter is full of newly-born mice which is evident due to their pinkish color. The baby rodents are still moving on the platter and are soon to be served to satisfy the taste buds of Chinese people.
Several baby mice were picked using chopsticks and put in a separate bowl.
After that, it was seen in the video that 5 mice were served on a plate together with some raw vegetables. To the surprise of many viewers, the mice were not even cooked as if they are the Chinese version of sashimi. However, the mice are still alive and moving.
READ ALSO: Fighting cock dead after intense love-making
A Chinese man took a video of himself as he dipped the live mouse in soy sauce and put it in his mouth. The video was cut after he put the mouse in his mouth which made many netizens question whether he really ate it.
The video has been shared for almost 90k times and has received many negative reactions.
One netizen said that the video was disgusting and horrible while one netizen defended China's culture and called those who said China was horrible as hypocrites.
READ ALSO: Snake dies after ingesting silicon implant from woman's breast
Moreover, a netizen questioned if the man really ate the mice because it was not shown that he chewed on it.
Chinese people were reported to be making fake vegetables and meat in restaurants in China which made this new video not a surprise to many people.
Source: Kami.com.ph