- A video of a traffic accident in Tanay involving a tricycle and a car went viral
- Some netizens believe that the car was at fault for driving too fast at an intersection
- Other netizens blamed the tricycle for being overloaded with passengers which made it more prone to an accident when having a full and sudden stop
A dashcam footage showing a traffic incident in Tanay involving an overloaded tricycle and a car has gone viral, with netizens divided on whose fault was the accident.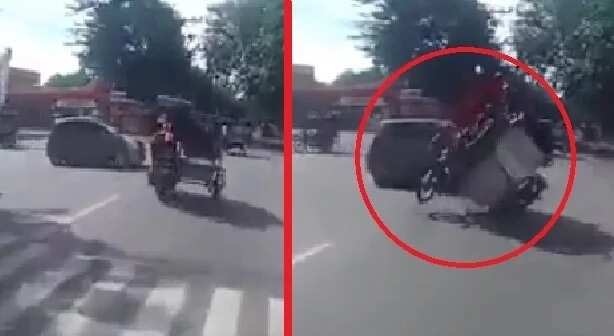 According to the video uploader, the tricycle was overloaded with passengers composed of children and the elderly. When it tried to suddenly hit the break as a car approaches at the intersection, the trike fell over and hit the speeding vehicle.
READ ALSO: Woman fell asleep in her bedroom, and then something sinister approached on her
The passengers can be seen and heard in the video screaming and crying as they were shocked by the violent crash.
Many eyewitnesses came to help to check on the condition of the passengers.
The video uploader added that both of the drivers involved are already in the police precinct giving their reports and that the passengers who were wounded have been taken to the hospital.
The online community was divided on who made a mistake on the road. Some netizens believe that the car driver was at fault.
READ ALSO: Shocking footage shows cop cracking windshield with black man's head!
"Hindi yun kasalanan ng tricyicle, yung 4 wheels ang may kasalanan, bigla ba naman lumabas, syempre mag pepereno itong tricycle, yun nga lang tumaob," an online user said.
(That is not the fault of the tricycle driver, the driver of the car made the mistake. He came out of nowhere which forced the tricycle driver to hit the break and tumble.)
However, other online users believe that the tricycle driver made the mistake of being overloaded with passengers, which is illegal in the Philippines.
"Trike over loaded Hindi safe prone sa disgrasya sa biglaang preno," a netizen pointed out.
(The trike was overloaded, which made the vehicle prone to an accident during a sudden stop.)
SHARE this brutal and sudden traffic accident video with your family and friends!
READ ALSO: Lucky guy just just survived a grizzly bear attack and tells the tale
Source: Kami.com.ph