- Pantaleon Alvarez, Speaker of the House of Representatives, unveils his plan to file a bill that would allow the legal union of same-sex couples in the country
- According to Alvarez, the bill is aimed at protecting the civil rights of the growing LGBT community
- The lawmaker also clarified that the bill will not infringe on the beliefs of the church but will protect the LGBT's basic "right to happiness"
The House of Representatives is about to sponsor another first as Speaker Pantaleon Alvarez announces on Monday, October 3, that he is in the process of authoring a bill that would allow same-sex marriage in the country.
The solon said in a press briefing that with the increasing population of the LGBT (lesbian, gay, bisexual and transsexual) community in the Philippines, it is about time that their rights and dignity receive ample support from the government.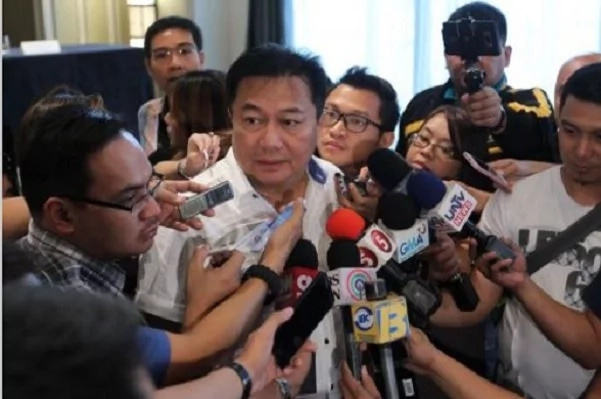 Alvarez had also said that this is his way of telling the LGBT community that their rights are being recognized by the state.
READ ALSO: Pangakong napako! Laborers decry unfulfilled promise of Pres. Duterte to end contractualization
The lawmaker also specified that the bill is meant to protect the "right to happiness" of the LGBT community as mandated by certain provisions of the Philippine Constitution.
"I am in the process of drafting one," Alvarez said and admitted that he is already looking for co-authors.
The announcement has brought an influx of reactions from the Filipinos sending the #DapatEqualAngSexes Twitter handle to the top of the list of trending topics for the day.
READ ALSO: First Davao Death Squad cop outrages Senate by categorically denying EJK
From among the tweets, we rounded up some of the most inspirational ones:
READ ALSO: Peke pala! Suspicious viewers raise doubts on De Lima's alleged sex video
Surely, the Filipinos, as usual, had found it hard to resist making puns and jokes when a hashtag becomes popular enough.
Here are some of them:
Watch the full video of Alvarez's announcement here:
RELATED: Bad boy actor Mark Anthony Fernandez arrested for possession of illegal drugs
Source: Kami.com.ph