- Sexy star Krista Miller was allegedly involved in the separation of Cesar Montano and Sunshine Cruz
- Sunshine Cruz told her fans on Instagram that she is in a better place and has moved on from her issue with Krista and her estranged husband
- Krista, along with her current partner and two models, were arrested in a buy-bust operation yesterday
Like love, karma takes time - which can either be good or bad.
In the case of Krista Miller, karma came in the form of her arrest as she was nabbed by authorities yesterday in a buy-bust operation along with her live-in partner and two other models.
The starlet has never shied away from controversy as she was the alleged mistress of veteran actor Cesar Montano, who was then married to Sunshine Cruz. Her visit to Richard Camata, a convicted drug lord, in the hospital also gathered the attention of the press.
READ ALSO: Solenn Heusaff shuts down Instagram hater: Will just wear jeans and turtleneck to the pool
Despite the unexpected turn of events, Sunshine Cruz is not rejoicing over Miller's arrest.
In one of her Instagram posts last Sunday, a couple of users commented on the news regarding Miller's run-in with the police.
One user, @daddy_ni_pepper, has been responded to personally by the model/actress. However, this user's original comment has already been deleted.
Even if Krista ruined the integrity of her marriage, she does not think that it is right to be happy with another person's misfortune.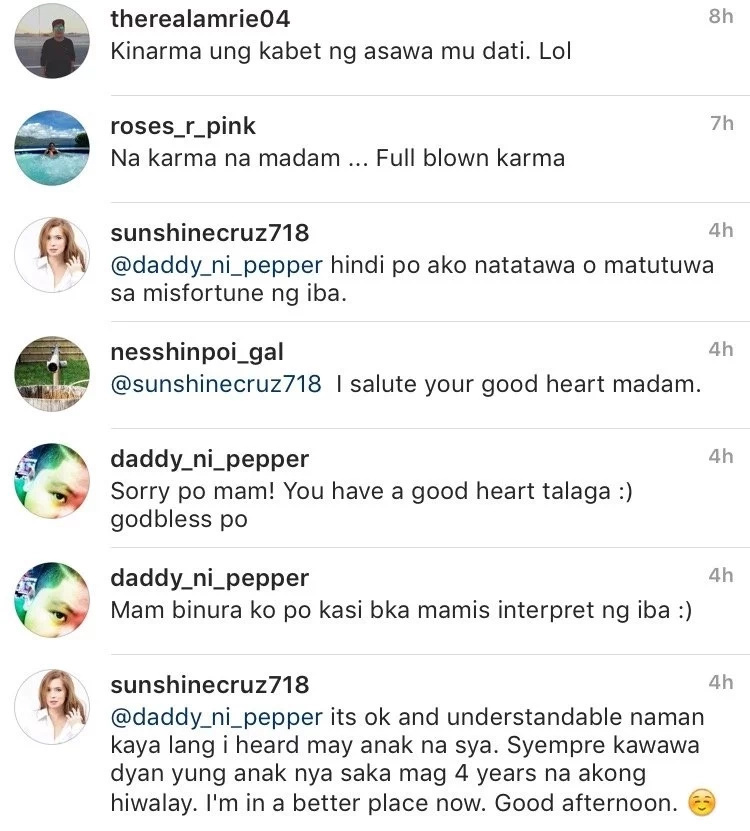 READ ALSO: Patay talaga...yung ahas! Snake dies after biting model's oversized silicon-implant breast
A few netizens commented that she has a good heart for forgiving and accepting what has happened to her, to which she added that it has already been four years and she is now in a better place.


However, she is concerned about the welfare of Krista's child. Sunshine disclosed that she heard that the starlet has already a kid of her own but due to the result of her fast-paced and dangerous lifestyle, she might not be able to fulfill her role as a mother.
User @er_beerlight has put herself in the position of Sunshine and her fans to conclude the discussion.
READ ALSO: Kailangan pala hubad! Janine Tugonon's naked pose wins global model search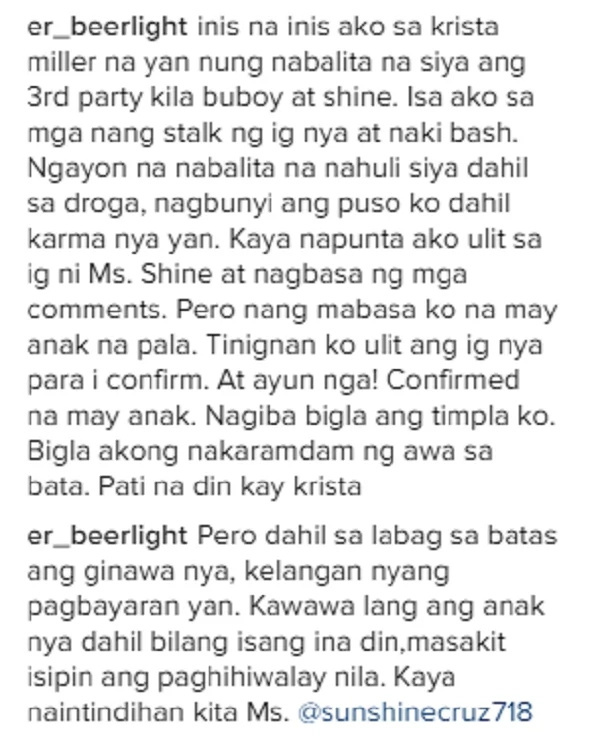 In 2013, Sunshine finally broke free from her oppressive relationship with her estranged husband Cesar Montano. According to her, Cesar has been cheating on her during the course of their 13-year-marriage and had enough when reports surfaced that he has been dating Krista.
Aside from annulment, she has also filed cases of sexual harassment and child abuse against the actor.
READ ALSO: Maine attraction! Maine Mendoza posts sizzling two-piece bikini photos
Source: Kami.com.ph