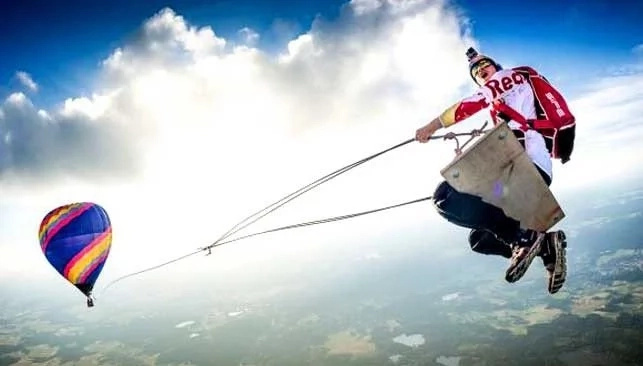 - Team Red Bull daredevils set out ot set a new World Record by swinging on the largest swing in the world
- They used a simple wooden plank attached to 125 meters of rope hanging from a hot air balloon soaring 1800 meters in the air
- Watch the beautiful footage their GoPro cameras captured
The adrenaline maniacs from the Red Bull team decided to set a new World record. They came up with an ingenious way to create the largest swing in the world.
By strapping a simple wooden plank to 125 meters of rope attached to a hot air balloon the daredevils set out to set a new record. The balloons were 1800 meters in the air before each hothead took a turn on the insane swing.
READ ALSO: What this pilot does when the propeller of his plane falls off is incredible
The whole thing was captured by the HD GoPro camera attached to the helmets of the men.
Watch the glorious footage here:
READ ALSO: A 4-year-old child and her grandmother were swallowed by a giant sinkhole
READ ALSO: Raging man enters Apple store and smashes every Iphone in the building
Source: Kami.com.ph