EDITOR'S NOTE: This video contains themes and images that may not be suitable for minors. Parental guidance is strongly advised.
Online users were both amused and shocked by a recent CCTV footage that went viral which shows a burglar getting scared to death as he is beaten up by a very angry resident.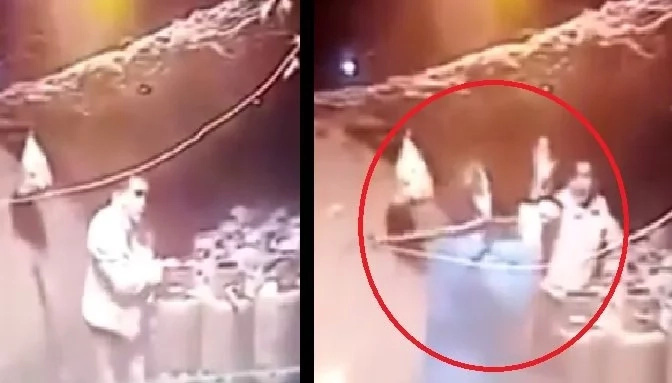 The footage starts with the obviously inexperienced burglar clumsily entering a residence by climbing down a high wall. A few moments later, the resident finally encountered the burglar who displayed great fear when he got caught.
READ ALSO: Filipino caught on camera abusing wife and child
Instead of fighting back and harassing the resident, the burglar pleaded mercy and tried to escape the scene by climbing up the high wall.
However, the burglar was unable to escape as the resident repeatedly hit him hard with a big stick. The thief fell to the ground as he received more punishment from the furious resident.
Many netizens commented that the burglar deserved the punishment he got.
READ ALSO: Mall-goer scared to death by OSVR horror game
"Di natin masisisi ung may ari... Talagang kahit sino magagalit pag pinagnakawan," an online user posted.
(We cannot blame the owner. Anyone would get angry if somebody tries to steal from him.)
Other online users slammed the burglar for getting into crime instead of working.
"Bakit kasi ayaw maghanap ng matinong trabaho.?? Kompleto naman ang katawan?? Tamad nga lang," a netizen pointed out.
(Why did he not try to find an honest work? His body parts are complete but he is just too lazy.)
Some netizens also wondered how the burglar is planning to steal the large gas tank.
"Paano kaya nya nanakawin yang malaking gasul na yan e pag pasok plng nya jan hirap na hirap na siya," an online user wondered.
(How was he planning to steal the large gas tank when getting inside the place was already a great struggle?)
SHARE this unexpected CCTV footage with your family and friends!
READ ALSO: Mall-goer walks on the wrong escalator
Source: Kami.com.ph