- President Rodrigo Duterte has once again stolen the attention of the world after making an analogy about him being the Philippines' Hitler in the ensuing drug war
- The statement has called forth reactions from all over the place, including lawmakers
- The Jewish community also reacted to the statement, and as of press time, reports claimed that the President has already issued an apology
On September 30, President Rodrigo Duterte upon his return from a trip to Vietnam, had made a reference to Hitler's Holocaust in reiterating his desire to beat illegal drugs out of the country.
Needless to say, the new addition to the President's colorful rhetoric has since earned mixed reactions - a combination of cheers and boos - for having likened his drug campaign to the infamous Holocaust.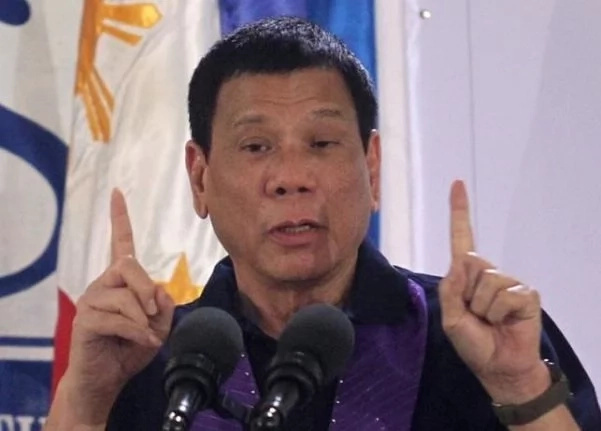 Among the many reactions to the statement had been that the president seemed to have gotten his data incorrectly. Reports had it that the president cited 3 million, but historians say that it was 6 million Jews that died from the Nazi's cruelty.
READ ALSO: Disappointed Duterte slams media for negative portrayal of drug war
Notwithstanding this insignificant bit of incorrect figure in Duterte's statement, his supporters found it necessary to defend him by saying that the president's remarks had been but a satirical denouncement of the 'cousin of Hitler' portrayal that he has been receiving.
Some others had tried to dispel the issue by saying that the analogy cannot be paralleled with the drug war as history would prove that in Hitler's time, the victims (the Jews) had been innocent.
One of his known supporters in Senate, Manny Pacquiao, had also gone to to the President's defense, and said that the President has been ordained by God to exercise discipline and authority among the Filipinos.
READ ALSO: Sobra na! Ifugao Rep condemns gov't plan to show De Lima's alleged sex video at hearing
Representative Teddy Baguilat of Ifugao said that the President seems to encourage the possibility of his "prosecution in international courts" for "crime against humanity."
"Noble intentions can never justify genocide," and this 'announcement' may come back as a threat to "foreign investments," he warned.
Following Baguilat's lead, Kabataan party-list, through its representative, Sarah Elago, had expressed troubling possibilities over the controversial statement.
READ ALSO: 10 Times starring in adult films proved to be the perfect stepping stone to politics
In her statement, Elago had said that while this may just be another "hyperbolic remark" from the President, the threatening remark is tantamount to "genocide" and is much more troubling than his 'aspiration' to be the "Philippine Führer".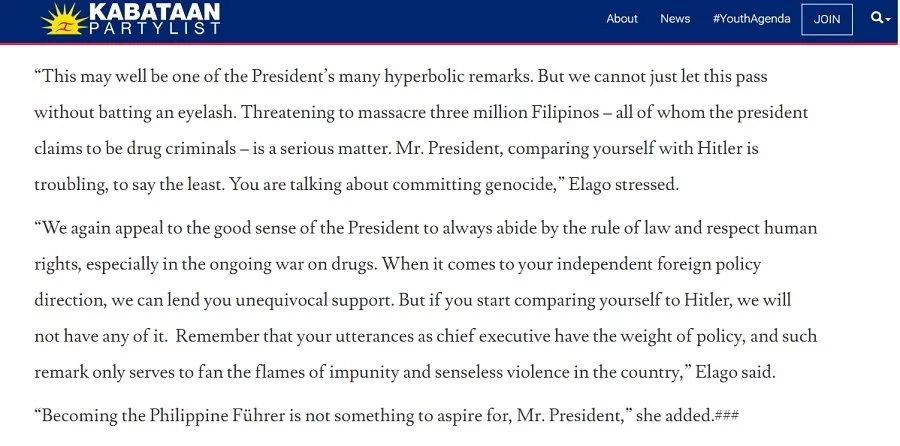 Tom Villarin, representative of the Akbayan party-list, tweeted that nobody should be making jokes that allude to the Holocaust. He also underlined the power of words.
READ ALSO: 7 Miriam Defensor-Santiago moments guaranteed to make you laugh your ass off
The President's choice of language"has worsened" says Rep. Edcel Lagman.
The solon from Albay, had also claimed that by comparing himself to Hitler, Duterte had unwittingly admitted that he "condoned" the killings in the country.
READ ALSO: Disgusted netizen enumerates provoking reasons why she abhors President Duterte
The Secretary General of the National Union of Peoples' Lawyers (NUPL) Edre Olalia had said that the audacity of Duterte's statement "is simply unjustifiable..."
On Sunday, Duterte issued an apology to the Jewish community for the Hitler debacle and explained that he had never intended for the Hitler reference to be derogatory.
RELATED: Insulting Taiwanese video calls Duterte a moron, Scarface, and a Kim Jong Un wannabe
Source: Kami.com.ph