- An annoyed netizen dared Kaysee Gregorio a.k.a. 'Dyoga Girl' to deactivate her Facebook account
- The netizen messaged her and said that if he reaches a certain number of likes, she will not be in Facebook anymore
- 'Dyoga Girl' was up for the dare but she increased the said number of Facebook hits
Netizens have been gushing about the internet sensation Kaysee Gregorio also known as 'Dyoga Girl' because of her viral provocative videos showcasing her large fronts.
Some are actually entertained by her sexy videos while some are actually annoyed and not pleased at all.
One of the latter is netizen Francis Sandico. He posted a screenshot of his private conversation with 'Dyoga Girl' on his Facebook account. He initiated the exchange of messages saying: "Kaysee kapag nakakuha ako ng 150k likes and 150k comments magdedeactivate kang facebook mo at hindi ka na magffacebook kahit kailan? G?"
READ ALSO: Pak! Ganern! Bakla and Dyoga Girl versions become internet hits
(Kaysee if I get to have 150k likes and 150k comments you will deactivate your Facebook account and you will not use Facebook ever agin. Game?)
Kaysee then responded: "15m likes 15m comments and 1m shares deal."
Netizens are now up for the challenge as the post already gained more than 330,000 reactions, more than 258,000 comments, and more than 7,000 shares in 6 hours.
READ ALSO: Netizen bashes Dyoga Girl after 'inappropriate' challenge
Several posts have then emerged, bashing 'Dyoga Girl'. One post even shows howthe online sensation's breasts are fake. A certain Sang Enaj posted photos of 'Dyoga Girl' on her Facebook account pointing what seemed like a detachable fake breasts.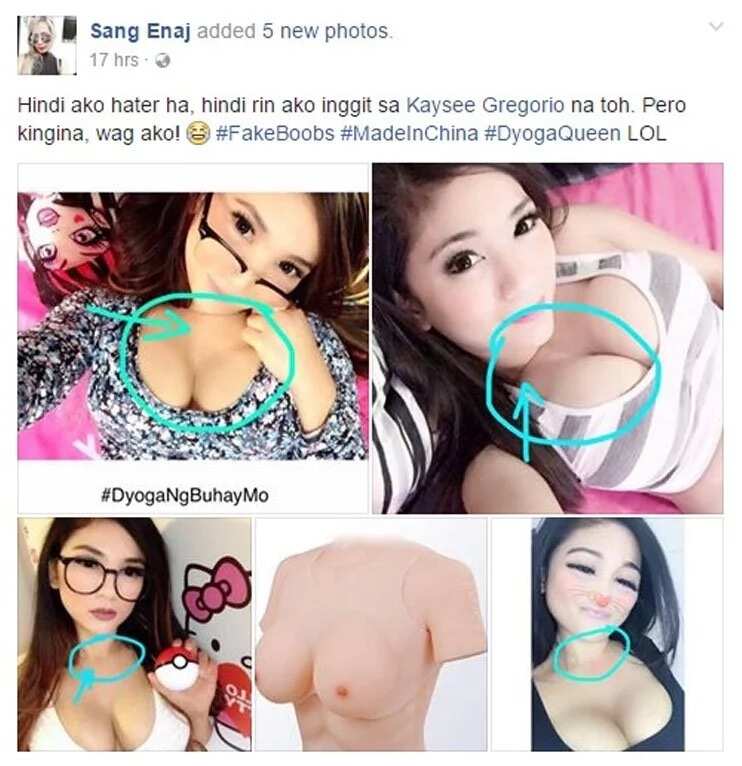 Another netizen named Shaira Aliyah expressed condemnation over 'Dyoga Girl' and her showwing off her breasts online. Aliyah mentioned how she should know her worth and how she should earn everybody's respect not through posting revealing photos and videos of her.

'Dyoga Girl' has been famous for her provocative videos such as her 'Pak Ganern' Dyoga version and her recent "Pen Flower Dyoga Pen" video which already gained almost 4 million views with more than 36,000 shares on Facebook.
READ ALSO: Chubby social media star covers 'Pen Pineapple Apple Pen'
Source: Kami.com.ph