- The family and loved ones of the late Sen. Miriam Defensor Santiago, who died at the age of 71 after battling against cancer shared their pain for their loss
- The senator was remember by her loved ones as a tough public servant who's willing to fight fot her country at the expense of her own safety
- The senator ran for president during the May 2016 elections but lost to former Davao City mayor, now President Rodrigo Duterte
Losing someone you love is indeed painful. While many people say that death, to an extent should be treated more of a relief, you can't just take that once you're there.
In cases when people die out of a disease, the first thing that you'll hear from people who are trying to comfort you is that at least your dead relative will no longer suffer from any pain.
This is because of the belief that going to heaven, especially for good people, is equivalent to going to a place where there is no suffering.
READ ALSO: Miriam Defensor Santiago, passed away at 71
Believers characterize heaven to be a place where people are not supposed to feel bad as opposed to what Earth offers.
Whatever the case it, losing someone you hold so dearly is just painful. This is what the followers, family members, colleagues and normal people felt when Senator Miriam Defensor Santiago died.
Here are some of the reactions and comments of her loved ones and colleagues while trying to recall their good memories with one of the best leaders this country had.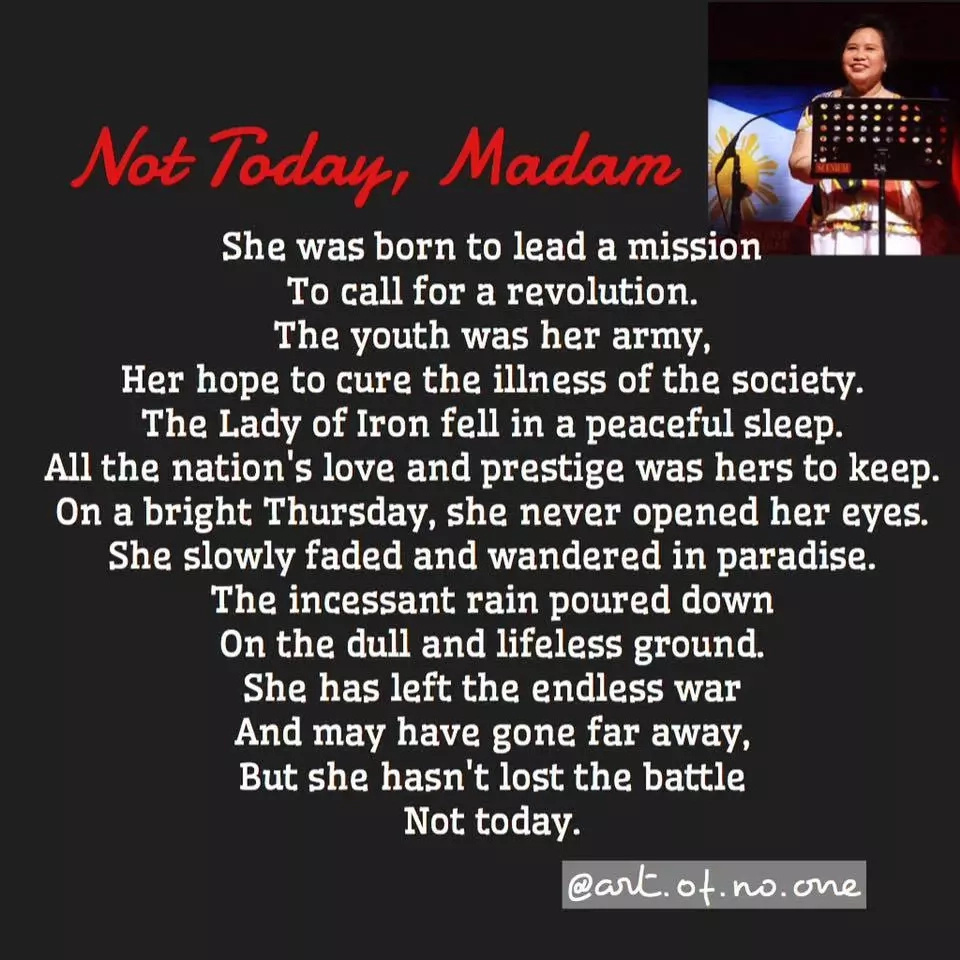 According to retired Gen. Benjamin Defensor, the senator said to keep thanking her followers who supported her along the way when she ran during this year's elections.
READ ALSO: 7 (Batshit) crazy moments of the late Senator Miriam Defensor-Santiago
He also said that he has accepted the passing of the senator.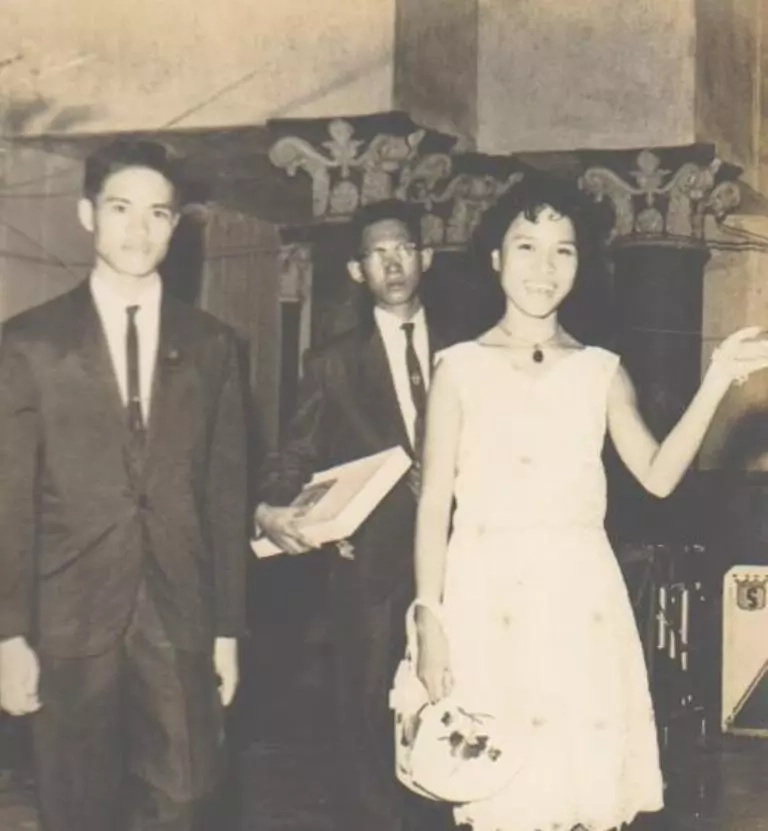 Heart Evangelista, who is known for being very close to the senator also posted on her instagram memories of her and the Iron Lady of Asia.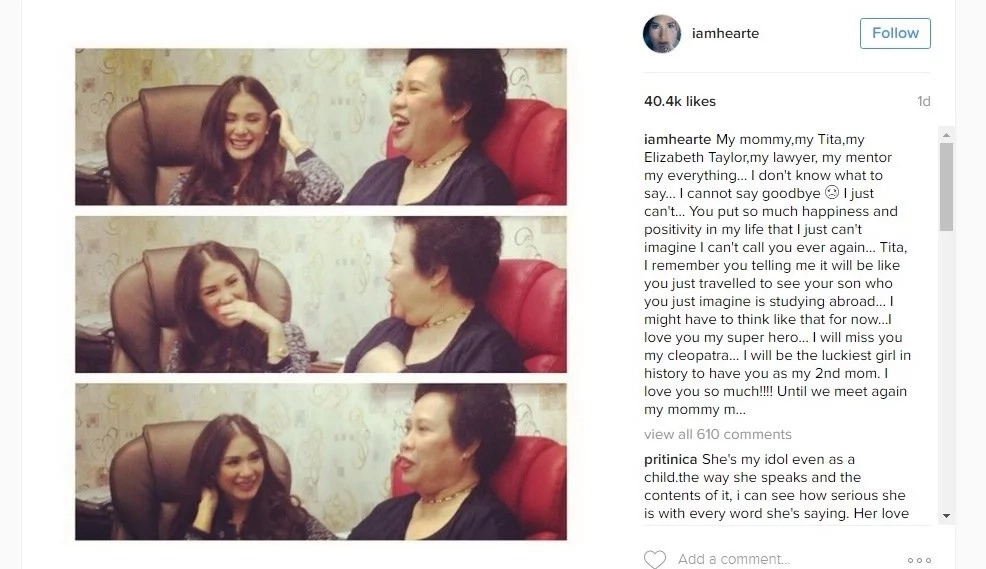 Mechel T. Santiago, the sentator's daughter-in-law also posted on her Facebook page recalling how she felt with the senator's passing.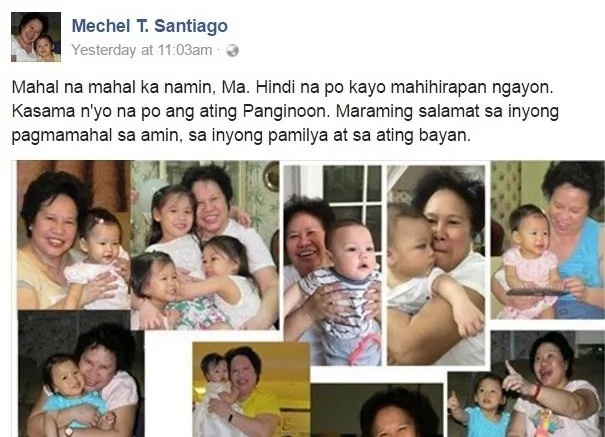 Bambi Defensor, the late senator's niece, also shared what she felt upon knowing the death of the senator.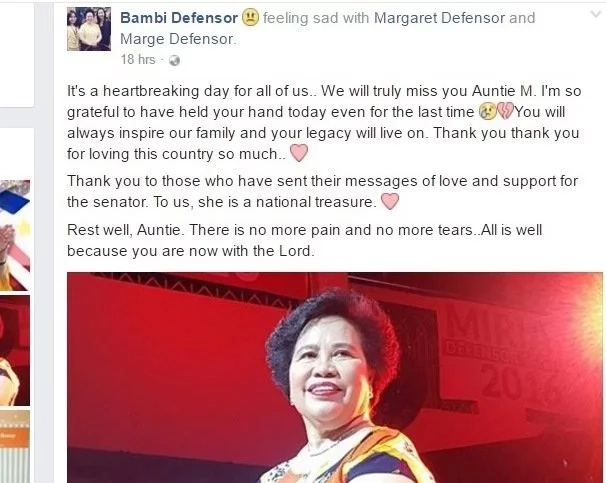 READ ALSO: 7 Surprising facts about Miriam Santiago
Source: Kami.com.ph