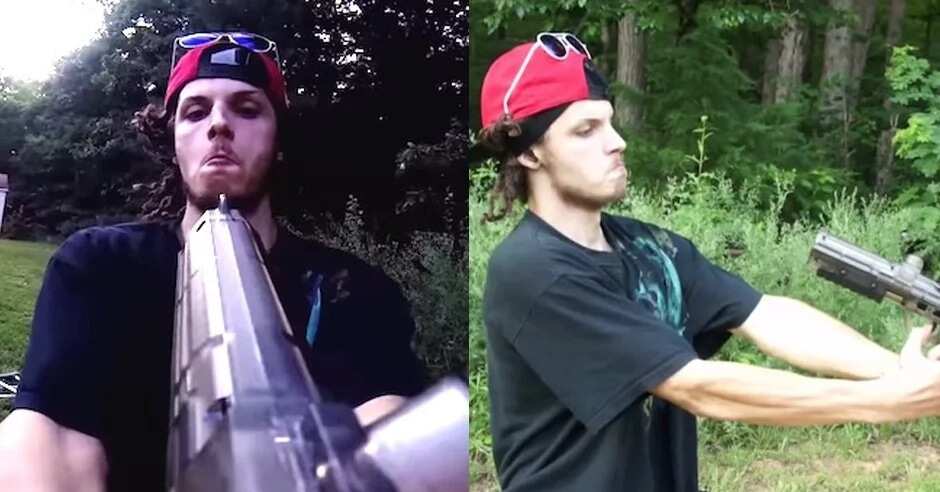 - A no-name Youtuber wanted to gain some e-fame by shooting himself in the face point blank with a paintball
- In the video he holds the marker on outstreched arms in front of himself and fires
- The paintball grazes his cheek, missing his eye by mere centimeters
You be the judge if the following video was worth all the internet views.
This guy just wanted to see what's going to happen if he fires a paintball into his face point-blank.
In the video he attaches a camera to his paintball marker and holds it with outstretched arms in front of himself.
READ ALSO: Crazy vegans brand themselves in a shocking act of solidarity with cattle
He pulls the trigger and you can see the paintball just shoot out, grazing his cheek mere centimeters from the daredevil's eye.
The guy is very shocked and it seems he didn't predict that it would be so painful and that he was extremely close to losing his eye.
In the end of the video he gets up and picks up a pair of crutches so we could guess this isn't the first time he tries to inflict self harm.
READ ALSO: Deranged son tries to strangle his own mother as his wife records everything
READ ALSO: Macabre footage of a surgeon and nurse dancing during a surgery sparks outrage
Source: Kami.com.ph