Truck driver caught on camera stealing underwear
EDITOR'S NOTE: This article contains themes and images that may not be suitable for children. Parental guidance is strongly advised.
The online community was recently outraged by a footage taken from a security camera in a suburban community showing a truck driver stealing a woman's underwear on the side of the street.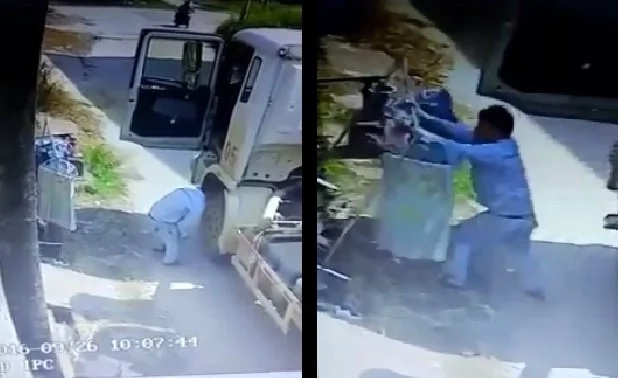 The footage shows the driver parking his truck near the rack holding several pieces of clothing, including the underwear.
He can then be observed checking his tire and then looking all around to check if anybody is looking at him.
READ ALSO: Pinoy thief in gadget store caught on CCTV
When he thought that the coast was clear, the truck driver approached the rack on the side of the street and aggressively took the panty hanging on it. Due to his nervousness and carelessness, the whole rack fell down along with the clothes.
The driver panicked further, rushing towards the truck while holding the stolen underwear. The truck then sped off from the scene of the crime.
Many netizens were shocked and appalled by the driver's actions.
"Tanggal na sa trabaho eh bogbog sarado ka pa sa asawa," a netizen wrote.
(You will get fired from your job and you will be beaten up badly by your wife.)
Other online users also theorized why he stole the underwear from the rack.
"Baka kailangan nya ng pampa alis antok," an online user commented.
(Maybe he needs it to avoid getting sleepy while driving.)
READ ALSO: Netizen shares epic video of colliding tricycles
Several netizens also joked about the bizarre incident.
"Walang modo! Ninakaw mo na nga ung panty tinumba mo pa yung sampayan," a netizen said in jest.
(You have no manners! You stole a panty and you pulled down the rack too.)
Other netizens pointed out that women should not display their underwear in public view.
"Bakit naman kc sa tabi ng daan pa nagsasampay ng panty c ate," an online user wondered.
(Why did the woman place her panty on the side of the street?)
SHARE this strange video with your family and friends!
READ ALSO: Netizen teaches Jollibee customers how to beat long lines
Source: KAMI.com.gh