- Secretary of Justice Vitaliano Aguirre II tells the media that he is interested in using the video scandal of Senator De Lima to prove her drug links at NBP
- In his statement, Aguirre said that the video would prove that De Lima and Dayan had liaisoned with high profile kingpins of the drug trade at the penitentiary
- The lawmakers have expressed their thoughts on Aguirre's announcements
Vitaliano Aguirre II, the current Justice Secretary, publicly announced on Tuesday his intention of using the sex videos starring Senator Leila De Lima and her alleged driver-lover Ronnie Dayan to prove their drug relations at the national penitentiary.
In his statement, the current secretary of Justice claimed to have in his possessions three videos showing De Lima and her paramour in the throes of passion. According to him, these videos can show the truth should the senator deny her romantic links to Dayan or any other man.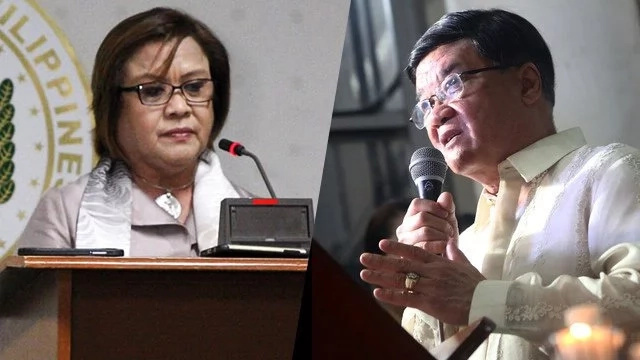 Aguirre also claimed that the videos, though yet to be authenticated by the NBI (National Bureau of Investigation), are significant in establishing proof of Dayan's clout at the National Bilibid Prison despite being 'an ordinary driver'.
READ ALSO: Hala nabisto! De Lima releases txt messages proving Du30 coerces people to witness against her
De Lima has openly disparaged Aguirre's alleged evidence, by making an analogy to the evidence and the Justice secretary's toupee and describing it as 'fake'.
Aguirre's statements were also met with questions of appropriacy raised by several lawmakers.
According to Senator Panfilo Lacson, showing the alleged video if it was not authenticated is highly inappropriate.
Senate President Koko Pimentel, urged the lawmakers to be 'sensitive to the feelings and effect of their action' on how the legislators will be perceived by the public.
READ ALSO: Outraged Ogie Diaz defends Duterte's appeal for 6-month extension of drug Armageddon
Senate President Pro Tempore Franklin Drilon, however, had called for 'respect and courtesy to a fellow legislator'. He also urged Senate President Koko Pimentel and Speaker Pantaleon Alvarez to meet and discuss the HHouse showing of this alleged video scandal.
Senator Antonio Trillanes IV, on the other hand, had said that showing De Lima's video scandal would be 'foul'.
RELATED: Prominent Filipinos who are Duterte supporters vs. Prominent Filipinos who are De Lima supporters
Source: Kami.com.ph