- Cell phone footage shows the super typhoon Megi destroying a train station tower in Taichung City, Taiwan
- The people in the area can be heard in the video screaming in disbelief of what they have witnessed
- Netizens also expressed their shock and advised the people in Taiwan to keep safe
A Facebook user uploaded a terrifying video captured in Taiwan as the super typhoon "Megi" destroyed a train station tower in the city of Taichung.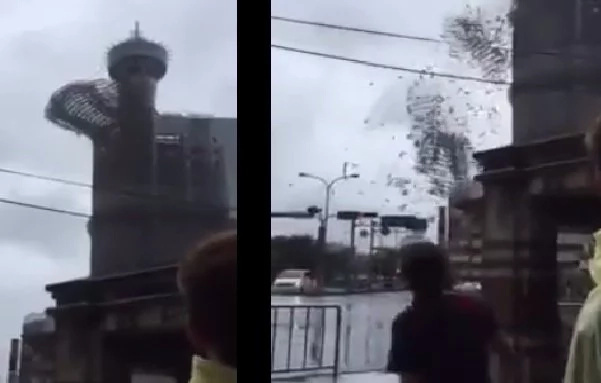 "Ito ang nangyari sa Tower ng Train station, nag collapsed sa lakas ng hangin," the video uploader posted.
(This is what happened to a train station tower, it collapsed due to the strong winds.)
READ ALSO: Man almost gets crushed to death by car
The video shows the large structure collapsing like it was made of sand which frightened the eyewitnesses in the area.
Some of the people can be heard screaming in disbelief of how strong the wind of the typhoon is.
Many online users advised the people in Taiwan to keep safe as the super typhoon ravages the nation.
"Ingat po yung mga ka kwento natin dyan sa Taiwan na nakaranas ng hagupit ng Super typhoon sa Taichung," the video uploader advised.
(For our fellow netizens in Taiwan who are experiencing the strength of the super typhoon in Taichung, keep safe.)
Another netizen who claimed to live in Taichung City confirmed that the super typhoon is very violent in the city.
"Dito yan sa Taichung City, lakas talaga ng bagyo dito ngayun," the online user said.
(That video is in Taichung City, the typhoon is really strong her right now.)
READ ALSO: 13 photos of Scarlet Snow being perfectly charming
However, an online user told the video uploader that the structure which was destroyed in the video was not a train station tower but a renovated store.
"Hindi yan train station. Dating department store, nirerenovate para gawing hotel," the netizen claimed.
(That is not a train station. That used to be a department store, it is getting renovated into a hotel.)
SHARE this frightening video with your loved ones, especially those who are living in Taiwan!
READ ALSO: Daredevil jumping through the fog of 200m skyscraper will scare you to death
Source: Kami.com.ph