- President Rodrigo Duterte said that Senator Leila Delima will definitely land in jail
- Duterte also gave a go-signal to the justice department to file charges against De Lima once investigations are done
- De Lima has been accused of being involved in illegal drug inside the New Bilibid Prison (NBP)
President Rodrigo Duterte confidently said that his staunch critic Senator Leila De Lima will end up in jail.
According to President Duterte, during the oath taking of the officers of the Malacañang Press Corps, Presidential Photojournalists Association, and the Malacañang Cameramen Association testimonies from the New Bilibid Prison (NBP) convicts will pin De Lima down as they accuse her of receiving drug money.
He said: "Now that she (De Lima) is in trouble, she wants to drag me. She will really go to jail. I'm sure of that because of the testimonial evidence."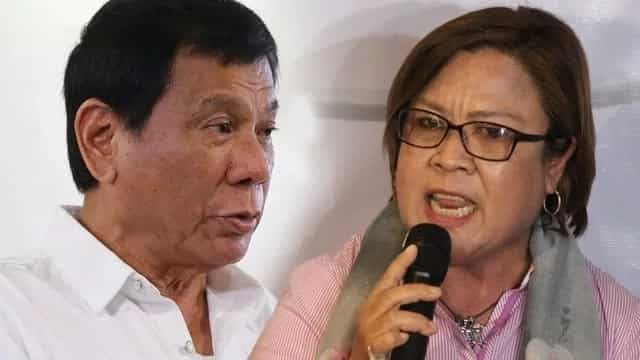 READ ALSO: UN shocked when Yasay praised Duterte's bloody drug war at assembly
He added that Se Lima will surely land in jail when all five witnesses could testify that they contributed money. "So on a national scale…who brought in the narco politics? It is here already," he stated.
When Duterte was asked if he is giving the justice department a go-signal to file charges against the Senator, he said "Yes of course" and added that cases could be filed once the investigations are finished. He also confidently said that he is sure of his evidence.
The president mentioned that plenty of cases that are non-biable could be filed against De Lima who has been criticizing his administration's war against illegal drugs.
READ ALSO: Sumipot ka! House committee chair challenges De Lima to show up on next hearing
Duterte stated: "She's (de Lima) the one who should be worried. Those are serious charges. She should not adopt a nonchalant attitude about all of these things. I said she opened the portals of narco-politics to take hold in the national level."
NBP inmates testified against De Lima, accusing her of receiving millions worth of money from illegal drug transactions inside the prison.
READ ALSO: Tuta ni Duterte! Fearless De Lima says inmate Jaybee Sebastian asset of gov't
Source: Kami.com.ph