24 Unusual ice cream flavors you can only find in the PH
When you ask people about their favorite ice cream flavor, you'd get tons of answers that include Vanilla, Strawberry, and Chocolate. These are the basic ones that can be found in all of ice cream shops all over the world.
Some flavors like Rocky Road, Cookies N' Cream, Mint Chocolate Chip, and Coffee have also been the staple ice creams in most dessert places.
As the Philippines' Department of Tourism's tagline goes "It's More Fun in the Philippines," it also proves true when it comes to ice cream flavors.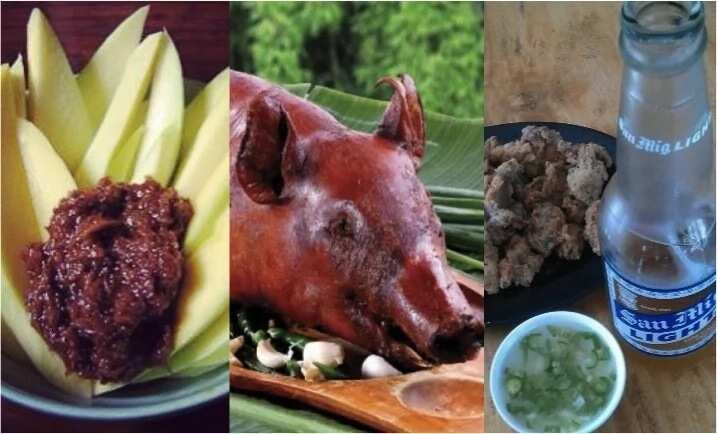 In the Philippines, there are unique flavors that you can only find in the Philippines. Filipinos are very creative and imaginative so it's not surprising that they also display their creativity in creating new and exciting flavors for ice creams.
1. Tinutong
Asians in general love eating rice. In the Philippines, every household eats rice during breakfast, lunch, and dinner. Tinutong is when you overcook rice and the bottom part gets burnt and it turns into brown crunchy yet chewy rice. Who would've thought that Manila Creamery's Tinutong ice cream would be a hit for it's sweetness yet smoky taste from the tutong.
2. Mangga't Suman
Mango and suman isn't entirely a Philippine thing, because Thais also have their own version of this dessert. But turning it into ice cream is well, shows Filipino creativity.
3. Green Mango with Bagoong
You can see people selling green mango with bagoong (fermented fish) like hotcakes on the streets. The sourness of the mango paired with the saltiness of the bagoong is a classic hit for Filipinos. That's what you'll get with Sebastian's ice cream version of this. You must be wondering, bagoong on my ice cream? Try it before you knock it.
READ ALSO: The woman delivers a baby in less than 2 minutes!
4. Champorado with Dilis
Champorado is a sweet chocolate dish usually served hot with condensed and evaporated milk. Filipinos pair champorado with salty fish like tuyo or dilis to elevate the dish even more. The sweet and salty combo is perfect for eating during rainy days. Sebastian's cold version of this lives up the expectations.
5. Salted Egg
Salted egg or Itlog Maalat is used as an ingredient on many Filipino dishes. You can find it on top of bibingka and palabok and it's also eaten with tomatoes, onions, and bagoong, as a sort of salsa. But now, it's the main highlight as an ice cream.
6. Sapin-sapin
Sapin means layer in Filipino, so sapin-sapin means layers and layers. This traditional Filipino dessert has layers and layers of different colors and yummy taste. It is made from rice flour and coconut milk and it has the basic colors of violet (ube), red, yellow, and white.
READ ALSO: Food started disappearing from refrigerator, so they decided to put a camera
7. Tibok-tibok
Tibok-tibok is Pampanga's version of Maja Blanca. It's a white milky carabao's milk pudding with latik on top.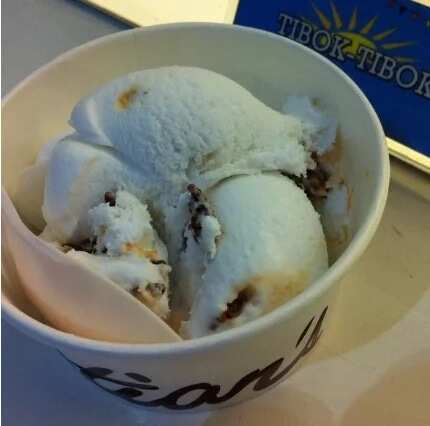 8. Bibingka
Bibingka is usually eaten during the Christmas season. It's a rice cake with salted egg topped with coconut shavings.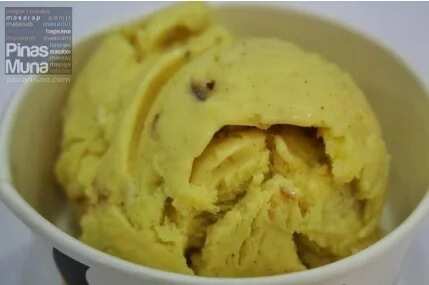 9. Puto bumbong
Another dish that is available during Christmas season is puto bumbong. It's made with glutinous rice flour mixed with purple yam powder, which gives its distinct color. It's best eaten with muscovado sugar and a cup of hot chocolate.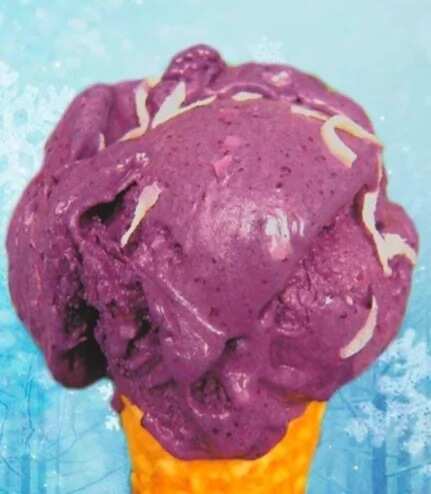 READ ALSO: Outnumbered and outsized but not outmanned: Small dog fights off 3 lion cubs for food
10. Kamote-Q
You can find your favorite merienda in Alab restaurant's ice cream. The sweet potato on the stick has magically transformed to a cold and sweet delicacy.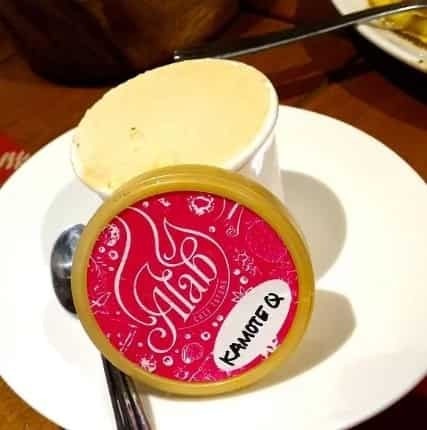 11. Laing
Another Alab masterpiece is the Laing ice cream. This dish originated from Bicol and it has dried taro leaves, coconut milk, and chili! It may taste like the real savory dish at first bite, but you'll love it more on the second bite.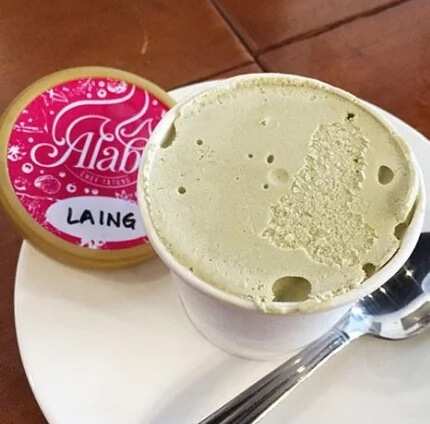 12. Turon
Turon is a common merienda sold on the streets. It's easy to eat because bananas and jackfruit are wrapped with spring roll wrapper covered with brown sugar and then deep-fried altogether.
READ ALSO: Astig Pinoy! This restaurant in Tagaytay serenades customers while enjoying hot 'Bulalo'
13. Taho
The warm sugary goodness of taho just makes every morning special. Growing up in the Philippines, kids love eating this silken tofu with brown sugar sauce and tapioca pearls.
14. Malunggay
Malunggay has many benefits that Filipinos have realized lately. So turning it into an ice cream is a no brainer. Plus it looks good as a green ice cream!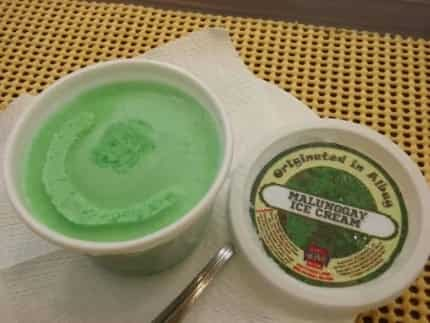 15. Calamansi
This green small Philippine lime packs a powerful sour punch. We use it for various things like dips, sauces, and marinades but it's actually really good in cold form as well.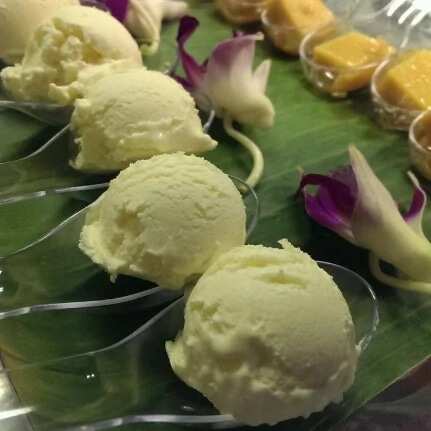 READ ALSO: A girl was shocked when she found this in her food from a Chinese restaurant….
16. Kapeng Barako
Batangas is famous for their strong coffee called Kapeng Barako. After eating this, you'll never eat those other bland coffee ice creams in the market again.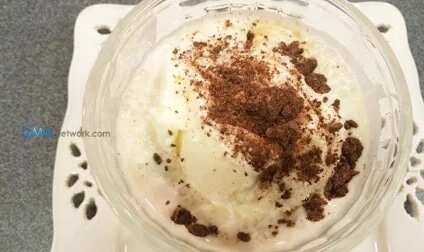 17. Sili
Bicol is known for their spicy cuisine. They have laing, bicol express, and binalot that truly packs the heat. Can you handle the heat of their sili ice cream?
READ ALSO: Sobrang cute! Little boy begs vendor to let him "utang" saying that he earns P5000
18. Sampaguita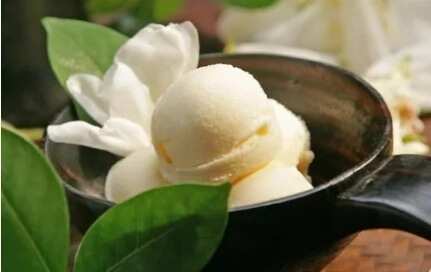 The national flower of the Philippines gets the ice cream treatment as well. You'll smell its distinct fragrance when you taste this frozen treat.
19. Beer and Chicharon
Chicharon or crispy pork skin is best paired with an ice-cold beer. Well, did you know that you could eat them both as ice cream? Yes, anything is possible now.
20. Ampalaya
Bitter gourd may not have many fans because of its, well, bitterness, but give its ice cream version a chance.
READ ALSO: 6 Pinoy food you should eat that will lead to hot, steamy sex
21. Tilapia
You may laugh at the idea of fish and ice cream blended together, but this weird concoction has won an International award.
22. Bangus
Another fish ice cream that has received positive reviews is this milkfish ice cream from Dagupan.
23. Durian with Crocodile Eggs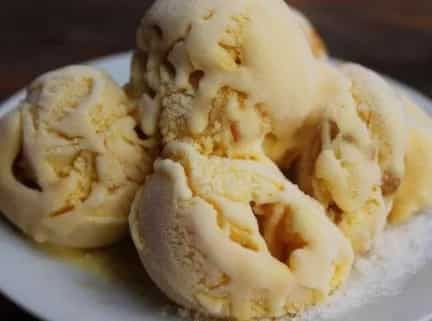 Durian ice cream made creamier with crocodile eggs. Yes, durian and crocodile eggs ice cream is a thing.
READ ALSO: OMG: Cobra swallowed 7 eggs and almost died of gluttony! See how it spits out the lunch
24. Lechon
You're not Filipino if you haven't feasted and craved for the crispy skin of a well-roasted pig. You can eat this very fattening and health-damaging pig dish now in ice cream form. It's a dessert and main course meal in one.
RELATED: 8 Coolest Things Pinoys Want More Than Sex With His Wife
Source: KAMI.com.gh