Andi Eigenmann cheats with Jake Ejercito and gets pregnant?
- Andi Eigenmann may have cheated with Jake Ejercito resulting to daughter, Ellie
- Albie Casino seemed relief that the truth is finally out there
- Andi's half-sister Max Eigenmann spilled the beans in an interview at Good Times with Mo Twister
It all adds up! Gossipers are able to connect all the pieces of the puzzle. It seemed that Andi Eigenmann had an affair Jake Ejercito while she was still with Albie Casino that resulted to a daughter, Ellie.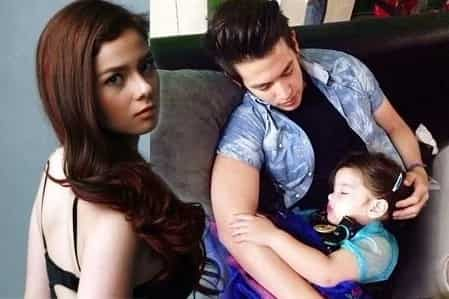 READ ALSO: Nabunutan ng tinik! Overjoyed Albie felt vindicated after truth came out about Andi's daughter
Everyone was taken aback by the revelation of Max Eigenmann that Jake is the father of Ellie. A few days ago, Andi's half-sister finally revealed and confirmed that Jake was indeed the father. In her interview at Good Times with Mo Twister, Max said that Ejercito took the paternity test.
In 2011, Andi made headlines when she announced that she was pregnant and that Albie was dad who was Andi's boyfriend at that time. The actor strongly denied that he is the father of Andi's baby and Filipinos find him as the new Harry "Rabbit" Angstrom.
It can be remembered that Albie offered to take a paternity test, but Andi's camp refused the offer and it raised a few eyebrows.
READ ALSO: Confirmed! Jake Ejercito and not Albie Casino is the father of Andi Eigenmann's daughter
People are wondering why Jake is like a doting father to Ellie, while Albie was never seen with his daughter. Albie was the actress' boyfriend at the time of her pregnancy and it would be a greater controversy if she said that Albie was not a father. The question remains hanging, did Andi slept with Jake while she was still seeing Albie?
Andi and Albie have great careers ahead of them cut short by the pregnancy. Andi was paired with Matteo Guidicelli and Coco Martin, while Albie was paired with teen queen Kathryn Bernardo in Mara Clara. However, the controversy robbed the two of their impending stardom.
READ ALSO: From lovers to foes, now friends: Andi Eigenmann, Albie Casiño are back on good terms
Source: KAMI.com.gh