Ellen Adarna didn't hold back on basher who insulted her mom
- Actress Ellen Adarna posted a Happy birthday post for her mom on Instagram
- A basher called her and her mom prostitute, which led to Adarna losing her cool
- Netizens defended the actress and applaud her for fighting for her mom
In the world of showbiz, you know you've come far enough if you already have bashers. Sure, fans signify that you're famous but if you have people hating on you that means that you are making people jealous.
It's a good and bad kind of situation because yes it means you're extra famous but bad because of the things they say. There are also different kinds of bashers; there are those who bash on you just for attention, those who genuinely hate you, those who even threaten your life.
Some celebrities have cracked because of the harsh comments they've received, and some have kept their cool. Ellen Adarna is one of those who generally have been chill about her bashers.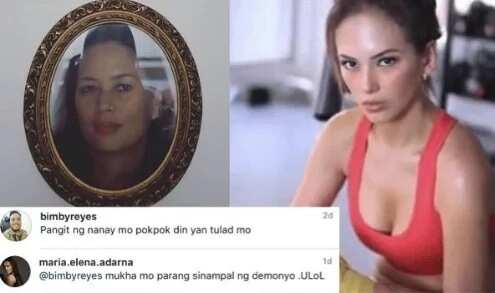 When someone called her "cheap," she simply said that she doesn't care. There was also a time that she was linked to Sebastian Duterte, the son of Rodrigo Duterte, the current president of the Philippines. Ellen just brushed it off and just stated that people shouldn't assume things.
READ ALSO: Ruthless Ryan Agoncillo: ' Bash me all you want but don't ever f*ck with my kids!'
Overall, Ellen Adarna doesn't care if people call her names, link her to celebrities, or even if people make rumors about her. But what irks her the most is if you drag her family into the bashing.
Five days ago, Ellen posted a Happy birthday post for her "super cool and beautiful mommah." Her fans also sent their birthday greetings for her mom, but someone ruined the festive mood.
READ ALSO: Bongga! Pia Wurtzbach astonished with surprise birthday parties
The basher said: "Pangit ng nanay mo pokpok din yan tulad mo (You're mother is ugly and a prostitute just like you.)"
You can come for Ellen Adarna but not her mother. The Kapamilya actress didn't take this lightly and scolded her basher by insulting him. She said: "Mukha mo parang sinampal ng demonyo. ULoL. (Your face looks like it was slapped by a demon. Fool.)"

That's what you get when you insult Ellen's mom. As of the moment, the basher's Instagram account is no longer available.
RELATED: Sana makatulong! Melissa Ricks gamely responds to basher on her weight gain
Source: KAMI.com.gh