EDITOR'S NOTE: This column contains themes, images and language that may not be suitable for minors. Parental guidance is strongly advised.
A video of an armed security guard killing a farmer leader in a rice field in Coron, Palawan in front of several eyewitnesses has surfaced online.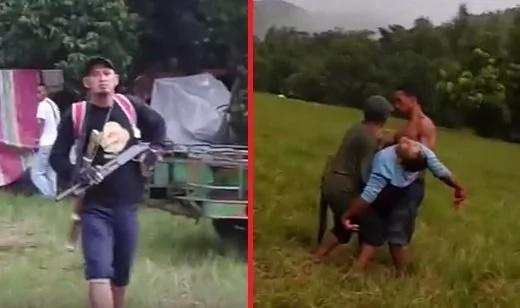 The victim was Arnel Figueroa, a 44-year-old leader of Pesante – an organization of farmers seeking the proper distribution of land based on the Comprehensive Agrarian Reform Program (CARP) of 1988.
READ ALSO: Congrats! Work of newbie author Anne Curtis gets recognized by religious org
Figueroa was killed at the Yulo King Ranch by a shotgun-wielding Dan Nelson Mayo, a member of the Bureau of Animal Industry's "Blue Guards."
The killed farmer leader had been leading a six-year battle for their right to be given part of the Yulo ranch which the farmers planted with rice, bananas, sweet potatoes and coconut.  He has a wife who is pregnant with their fourth child.
The viral video was taken by 36-year-old Maria Maaya L. Thind, the general secretary of the Pesante which is composed of 10,000 member farmers.
The suspect is currently in the custody of the police. Pesante members have picketed the police station in order to prevent Mayo from getting out.
READ ALSO: Mag-brad sila? Witness Matobato and Duterte shockingly inked with the same tattoo
"We cry for justice. The farmers are not pigs, they are human beings," said Archbishop Antonio J. Ledesma of Cagayan de Oro in a written statement.
The video shows the Pesante members and the guards arguing at the Yulo ranch. A few moments later, the guard suddenly pulled the trigger of his shotgun which hit Figueroa right in the stomach. The Pesante members started to scream and become hysterical due to the security guard's sudden attack.
The farmer leader's internal organs were fatally injured and he lost a lot of blood during the encounter.
READ ALSO: Fiery Trillanes claims to have strong info supporting Matobato's shocking testimony
Source: Kami.com.ph