- Actress Melissa Ricks, who is now a mother to one-year-old Keira Kelly, has been active on YouTube with her videos focusing on lifestyle content
- A commenter called out her bloated features on one of her latest Instagram posts, which she slammed by saying she has not gained weight 
- Netizens were divided on the matter: some told her to shrug off bashers while some were concerned about her plump state
Despite not being active in showbiz lately, actress Melissa Ricks has continued to be in front of the camera through vlogging (video blogging). In her YouTube channel, she catalogues her life in different playlists: as a local celebrity, as a traveler, as a mother, and as a woman who shares to others her love for make-up.
Recently, the 'Star Circle Quest' alumna posted on her Instagram account a deleted scene from her latest video where she commented on her neighbor who was chopping down trees and grinding them. The noise can be heard in the background, which she said was interfering with her work. However, she retracted her comment and joked that she was the one intervening with his business.
Her good intentions were cut off when a user named Ceren Domingo commented about her physical features.
READ ALSO: iPhone7 hack gone wrong! Netizens accidentally destroy their phones after following this hack video
"Bakit ang taba mo na?" was the question of Domingo, which has now been deleted.
(Why have you become so fat?)
To which Ricks responded with: "What kind of question is that?", not holding back her outrage on the commenter's question.
READ ALSO: Dahil sa cheesecake! Nadine Samonte releases fiery insults against IG basher over "Pablo"
Aside from answering other questions from her fans, she added that she has also lost 23 pounds. Although Ricks might not have tagged Domingo, the response was purportedly directed to her as the actress also hoped that her additional information helped to answer the question.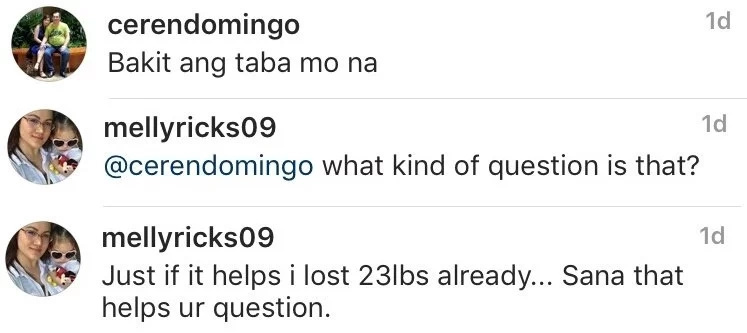 (photo credit: Melissa Ricks' Instagram account via Fashion Pulis)
Netizens understood Ricks' feelings regarding the commenter's question, which they backed by saying that people like Domingo are insensitive and continue to mind things that should not be given much attention to.


READ ALSO: Haters told she is to fat for fashion but her answer was very wittily
In addition to calling the commenter insensitive, a user named Angelique Esteban said that Ricks' weight gain was due to her pregnancy and not only was the comment rude to the actress, but to all mothers out there.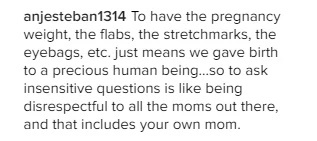 There were also those who said that she should not neglect taking care of herself even if she already has a baby.


It is indeed true that we should think first before we act, or to be more specific, research first before commenting. Last year, Ricks gave birth to a baby girl - Keira Kelly - which is her first child with her boyfriend Charles Togezaki. Now that she has become a mother, things have changed for the actress as she has focused more on her family.
READ ALSO: Top 5 breastfeeding celebrity moms we should aspire to be
Source: Kami.com.ph