- A video of a man trying to take a selfie with a snake and getting bitten in the process went viral
- The man screamed and ran away after the python bit him on his right shoulder
- Netizens found the video both funny and scary at the same time
A video of a giant snake suddenly biting a man in India who was trying to take a selfie with the reptile went viral, with many netizens finding the attack both funny and scary at the same time.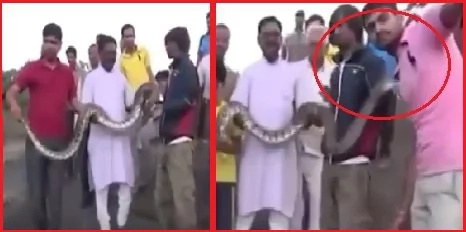 The video starts in a light-hearted mood, with everyone feeling proud and happy for catching a python. Three men were carrying the giant snake while walking outdoors.
READ ALSO: See why this girl is called the 'snake woman'
A few moments later, a man wearing a pink shirt enters the scene out of nowhere. It turned out that he was planning to take a selfie with the python.
However, the giant snake had different plans. The seemingly annoyed python quickly bit the selfie man on his right shoulder, causing him to scream and move away from the scene. The eyewitnesses looked shocked at what just happened.
Many netizens made fun at what happened to the man who tried to take a selfie with a snake.
READ ALSO: Amazing footage of a gargantuan python that dies trying to digest a whole antelope
"Yan napala mo, hindi ka kasi nag ask ng consent," a netizen posted.
(That's what you get for taking a selfie without asking for consent.)
On the other hand, several netizens got scared of the shocking incident between the man and the python.
"Nakaka takot talaga lumapit sa ahas... Mahirap mag tiwala," another online user said.
(It is really scary to get close to a snake. It is difficult to trust that animal.)
SHARE this funny but scary video with your family and friends!
READ ALSO: What happened to this teen girl bitten by a snake will make you cringe in fear
Source: Kami.com.ph