EDITOR'S NOTE: This column contains themes and images that may not be suitable for minors. Parental guidance is strongly advised.
CCTV footage of a trio of robbers getting chased away by a woman with a gun went viral, with many netizens impressed with the courage and determination displayed by the woman.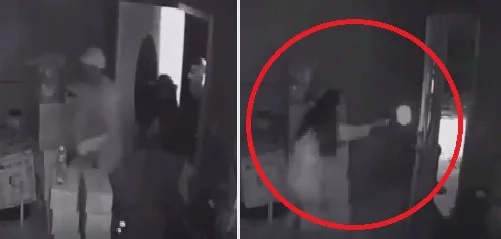 The video shows three armed men entering what seems to be a storage facility of some kind. The robbers are seen roaming around checking for things to steal.
A few moments later, the unlucky men started to run away in a hurry. It turned out that they have met their match!
READ ALSO: Tiis ganda! Wounded bekis project in front of the camera after brutal fight with friends
A woman holding a gun in one hand and a cell phone on the other can be seen running after the robbers while firing her gun at them.
Many netizens applauded the woman's courage and her skills at using a gun one-handed.
"Ang tatag ng pulso ni ate, isang kamay pa un ha partida may hawak pang cp," a netizen commented.
(The woman was very brave, she used only one hand and was even holding a cell phone with her other hand.)
READ ALSO: Russian driver does it all to make his truck vanish under water in one second
Other online users also commented about the importance of having a firearm and knowing how to use it.
"Dapat lang talaga sa panahon na ngayon meron ka nayan , naka handa," an online user said,
(Having a gun ready to use is a necessity in these times.)
Other netizens used sarcasm to mock the Commission on Human Rights (CHR) which investigates human rights violations committed against both the innocent and criminals.
"Hala, dapat pina kain muna lang yan at binigyan ng kape lagot ka s CHR nyan," an online user said in jest.
(You should have just given them food and coffee instead. Beware of CHR.)
SHARE this intense video with your family and friends!
READ ALSO: This horrifying prank is so scary it's a surprise nobody died of fright
Source: Kami.com.ph