- Senator Leila De Lima compared herself to "a dead woman walking" amidst allegations regarding her involvement in illegal dugs
- De Lima said that she is looking at the possibility to be ousted from the office mentioning that President Rodrigo Duterte and his allies are trying to destroy her
- She added that all the accusations thrown at her are all for kicking her out of the Senate
Senator Leila De Lima described herself as "a dead woman walking" as she battles with the illegal drug allegations thrown at her.
According to De Lima, her fight with President Rodrigo Duterte, his allies in the congress, and the offices under the executive branch, has been lopsided given that the highest official in the country is on the lead against her.
De Lima said in a radio interview: "I don't know where this will end and what would happen to me the next day. I have this feeling that I live by the day, tomorrow I don't know if I'm still here. I feel like I'm a dead woman walking."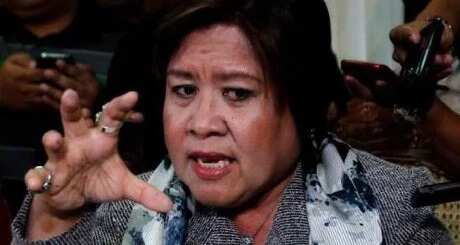 READ ALSO: Aguirre exposes De Lima gained P500M-P1B worth of drug money
De Lima stated that she is already preparing herself for the possibility that she will be kicked out of the Senate mentioning the president and his allies' efforts to destroy her.
"Imagine the entire machinery of the executive department facing me, with Congress helping out with this House inquiry… You know very well I have been ousted as chair of the Senate justice committee. I know that this is going to be a long and very lonely battle but I never imagined how big is the offensive against me," the senator said.
De Lima has been investigated by the Department of Justice (DOJ) and the House of Representatives since the senator has been accused of being involved in illegal drug transactions as she was tagged as a drug protector of drug lords inside the New Bilibid Prison (NBP).
READ ALSO: Fearless De Lima forced from home as callous threats pour in
De Lima explained that all of the accusations are done in order to remove her from the office because of her, questioning the administration's implementation of war against illegal drugs.
READ ALSO: Iba si Colangco! House probe witness allegedly stages concert for De Lima's benefit
Source: Kami.com.ph