- Photographer Joel H. Garcia posts a black and white photo that he took from a wedding
- Unfortunately, the sweet kiss was covered by a guest taking a photo of it
- Netizens shared the same sentiments as Garcia
Weddings in the Philippines are celebrated in a very extravagant manner. It's a time where families get together, friends reunite, and some of your parents' friends you don't even know are invited. You'd also meet your distant third cousin who you barely even met.
In every Filipino wedding, everything has to be set from the wedding venue, reception venue, caterer, and gifts for the sponsors, souvenirs, and many more. There are also some unique Filipino customs and traditions in weddings that couples have to consider when getting married.
There's the pamamanhikan and paninilbihan, which involves asking permission of the parents of the bride for her hand in marriage. Then during the day of the wedding the groom and bride aren't supposed to see each other because it will bring bad luck. After the wedding, as the newlywed couple exit the venue, people lightly throw uncooked grains of rice alongside the flower girls for good luck and prosperity.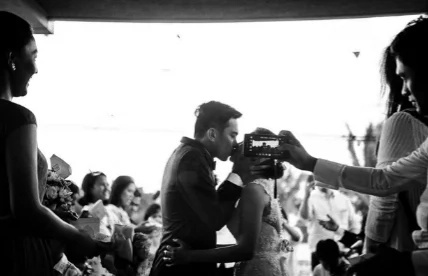 About-to-be married couples may not even practice some of these traditions nowadays. There's a new trend happening in Filipino weddings currently that is alarming. A Filipino wedding photographer has exposed the truth and gave advice to future wedding guests to not do this in the hopes that it won't become a tradition.
READ ALSO: Think your talents can handle this hottest new challenge?
According to Joel H. Garcia, some guests get in his way when capturing the perfect moments that "don't last for a long time." It saddens him that people don't realize what they're doing.
He posted a black and white photo of a recent wedding that he covered where it would've been a gorgeous shot if only a guest's hand with a phone taking a photo weren't in the way.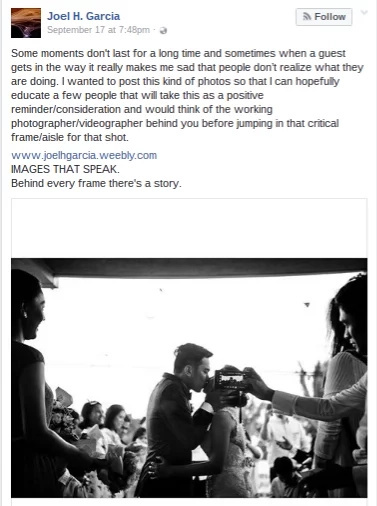 As smartphones and other gadgets get updated every year, they also get more affordable and more accessible to everyone. In weddings nowadays, people are on their phones taking photos and videos of the event instead of being in the moment like before.
READ ALSO: This Magazine's cover about Angelina Jolie and Brad Pitt split is savage as hell
Garcia hopes that by posting this, he gets to "educate a few people that will take this as a positive reminder/consideration."
Hopefully, people would put down their phones and enjoy the moment. After all, he was paid to do his job of taking unforgettable experiences and moments from the event.
His post has gone viral with 12 thousand likes and almost a thousand shares already. Garcia's sentiments seem to have resonated with other people photographers, newlywed couples, and wedding guests alike.
READ ALSO: Kalurkey! Sen. Leila De Lima belts Imelda Papin's 'Kung Liligaya ka sa Piling ng Iba'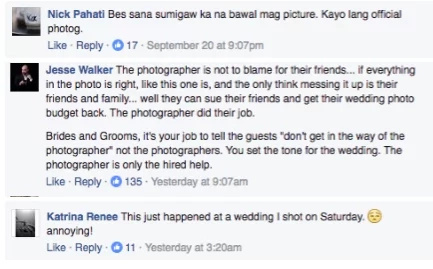 RELATED: May forever! Charming Nadine says heartthrob James Reid completes her life
Source: Kami.com.ph