- Dexty MN, student from Antipolo, posted photos of his witty reaction paper for his Rizal class
- He also challenges netizens to do the #ReactionPaperChallenge if they're brave enough
- Netizens started a laugh riot on the comments section
In school, students are normally required to pass certain papers so their skills in writing, grammar, sentence construction, and creativity are put to test.
Ever since grade school, kids have been tasked to submit reaction papers to certain books, stories, or even plays/musicals that they watch during field trips. It's the same case in high school but the topics are usually heavier.
When you reach college, reaction papers evolve into something harder because the topics that you have to react to suddenly becomes more mature and sometimes even unimaginable. Certainly, when you're already at the collegiate level, you must be a master of writing reaction papers after writing tons of these.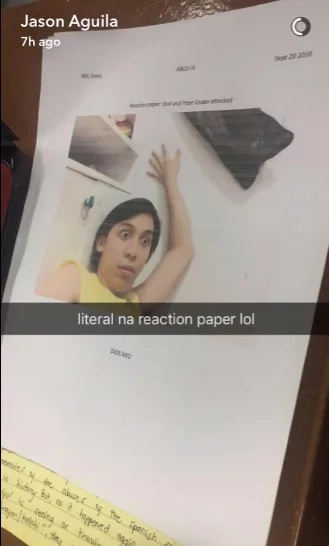 READ ALSO: Takot ka ba sa dilim? Unconventional resto will make you eat in total darkness
A Filipino student upped his game by passing a different kind of reaction paper.
Dexty MN, studying in La Salle College Antipolo, passed his realistic and literal reaction paper to his Rizal class. It was his reaction paper regarding the topic of "God and Pope Under attacked (sic)." He attached his photo with a shocked look and the phrase "Dios Mio" under it.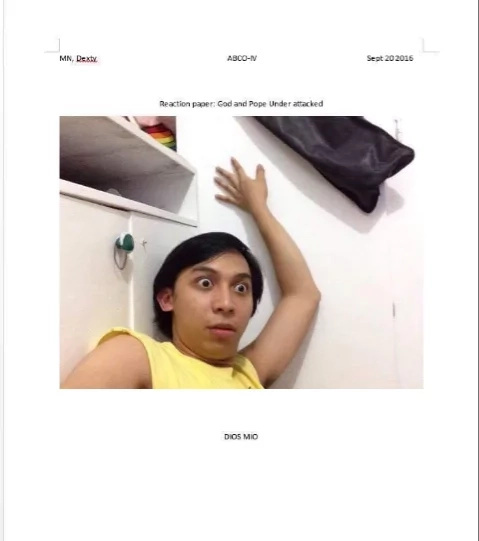 He posted it on his Facebook account and 23 thousand people liked it, about 3.1 thousand comments, and 14 thousand people shared it online. Dexty even asked his followers if they're also brave enough to take on the #ReactionPaperChallenge.
READ ALSO: Kawawang bata: Violent student kills his defenseless classmate in Laguna
Many netizens tagged their friends saying that this is what they should have done back then. They should have also submitted a literal reaction paper.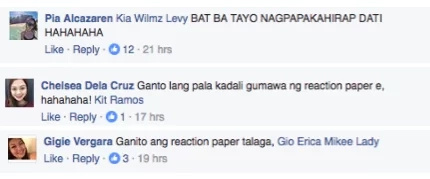 Someone commented that if he did this, his professor would hit him in the head.

People were also concerned if he got any sanctions or that he might fail because of this stunt. According to him, he hasn't gotten any sanctions yet and he will know next week if he passed it.
READ ALSO: 6 inspiring Filipino teachers whose efforts against illiteracy will touch your hearts

Do you have the balls to take on the #ReactionPaperChallenge?
RELATED: Demonyo sila! Duterte calls int'l bodies 'devils' and invites them to a ferocious debate
Source: Kami.com.ph