- A drug suspect was shot four times by police, but lived
- He is now imprisoned in a packed cell and expressed support to Duterte's war on drugs
- Duterte's war on drugs left 3,500 people dead and still counting in three months since he assumed being president
The police was sure he was dead after four bullets entered his body and he was lying in a pool of blood, but he "rose from the dead" and now on Duterte's side of the drug war.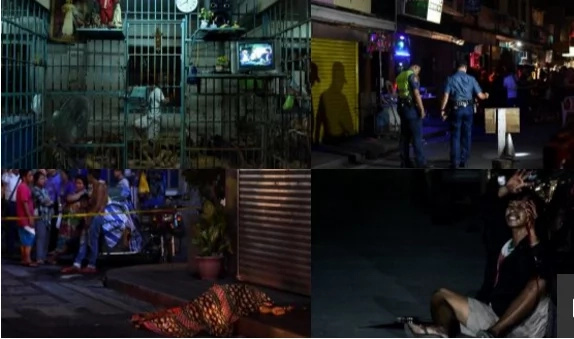 READ ALSO: Demonyo sila! Duterte calls int'l bodies 'devils' and invites them to a ferocious debate
Francisco Maneja "played dead" for more than an hour until the coast is clear of police and photojournalists caught some shots of the crime scene, he sat up and lifted his hands and screamed "help me".
The 27-year-old father of two and self-confessed drug user is now in a crowded hot cell at Manila's police headquarters.
READ ALSO: God saves lives! Former drug addict now serves as priest and counselor to druggies
Upon his incarceration, he declared, "Sincerely, I support my president in what he is doing. I have risen from the dead. My lesson is learnt".
Duterte's deadly anti-drugs crackdown is after users and peddlers of shabu, a poor quality form of crystal methamphetamine, and party drugs. Since he assumed his post three months ago, he has left more than 3,500 people dead. The drug war was condemned around the world, including by the Catholic Church, United Nations and United States.
READ ALSO: 9 Outrageously controversial Duterte jokes that rocked the world
Source: Kami.com.ph