- Max Eigenmann, Andi Eigenmann's sister, revealed that Jake Ejercito is the father of Ellie
- According to Max, they did a test which confirmed that Jake is the biological father of Andi's daughter
- Andi insisted that Albie Casino is the father of her child when she got pregnant in 2011
After the Twitter clash between ex-lovers Andi Eigenmann and Jake Ejercito, a big revelation shocked many.
Andi Eigenmann's sister, Max Eigenmann confirmed that Jake Ejercito is the father of Andi's daughter, Ellie.
During the podcast of Good Times With Mo Twister on Thursday night, DJ Mo asked Max about the hot and cold relationship of Andi and Jake. Max replied that it was not much of a bother because the two were always like that.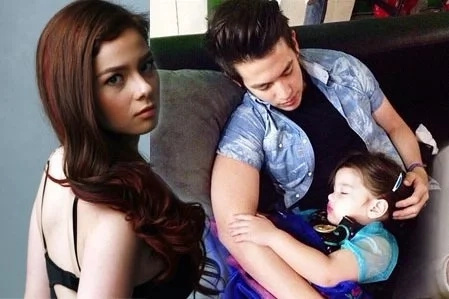 READ ALSO: Twitter fight alert: Andi Eigenmann vs Jake Ejercito
Mo mentioned that he likes Andi and Jake as a couple and Max agreed, saying that she feels the same way.
She then added an unexpected statement and said: "Yeah, me too. And you know that he's the father of my niece, right?"
When Mo seemed like he misunderstood what Max meant and explained that he knows Jake stands as Ellie's non-biological father, Max insisted that Jake really is Ellie's father.
READ ALSO: Andi amazed at how daughter keeps mum about escapades with Jake
She said: "No, no. Yes, he is [the biological father]. They did a test. Yeah, he's the dad. He's the dad. They're co-parenting. That's why he always posts photos of my niece."
Max, the daughter of Mark Gil and Bing Pimentel, added that Jake did not need any visitation rights because he could actually see Ellie any time or any day he wants.
Max also revealed that Andi is currently in a relationship with a surfer guy for a year now who happens to be the brother of her friend.
Andi got pregnant in 2011 and claims that Albie Casino, who was his boyfriend at that time, is the father of her child, which Albie denied.
READ ALSO: Andi Eigenmann slams bashers for calling her daughter 'ugly'
Source: Kami.com.ph