Blackballing Duterte's presidential campaign?
Netizens cry foul play about some of the women who were part of the groups which rejected embattled Mayor of Davao City and presidentiable Rody Duterte's apology on controversial rape remark, a picture showed one of them wearing a shirt with Liberal Party and administration's slogan and logo of Daang Matuwid (Right Path).
A certain Gay Omega's post went viral on Facebook yesterday about some women who filed a complaint against Duterte, who made a remark about the rape of a lay missionary raped in 1989.
She believes some women are people of administration bet Mar Roxas.
She said,"Maniniwala na sana ako sa naghahain ng petition for duterte ay hindi politika lamang, pero ito nakita ko, ano to?
Sana naman wag nyong ipagkait sa mga taong nangangailangan ng matiwasay at maayos na gobyerno ng dahil lang sa pera. Ganito na lang ba? Pera pera na lang ang usapan?!
("I would have believed the filed petition against Duterte is not politically inclined, but based from what I have seen...? I hope that you won't let the public who needs a peaceful and orderly government be taken of the chance for the gain of money.")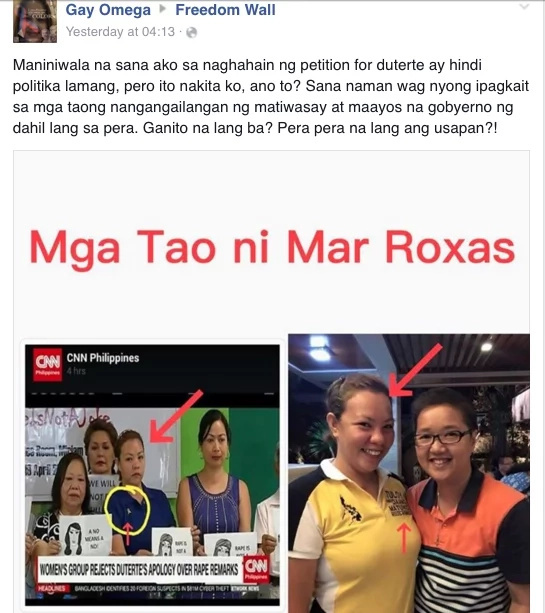 The complaint was instigated due to the remark made by Duterte on the hostage-taking incident at the Davao Penal Colony in 1989.
It was during the incident that Duterte said he uttered his controversial remark about an Australian rape victim.
This statement, repeated in a campaign sortie last weekend, has become controversial and has gone viral on social media. Duterte's rivals in the presidential race, netizens, women's groups and other sectors are now lambasting the mayor for the said remark.
Duterte's campaign slogan of Tapang at Malasakit (Fearlessness and Compassion) earned him the nod of his supporters. He is now number one in the latest presidential survey released before the rape remark issue.
Source: KAMI.com.gh