- A fourth Indonesian hostage has been released by his Abu Sayyaf captor to Moro National Liberation Front, says Armed Forces Western Mindanao Command on Thursday, September 22
- The release happened after three other Indonesian captives were also allowed to walk free on Saturday evening
- The AFP's official statements reported no ransom, however, a security source privy to the exchange disclosed that money had changed hands before the Indonesians were released
One more Abu Sayyaf Group (ASG) hostage was released to the Moro National Liberation Front (MNLF) on Thursday morning, September 22, says the spokesman for the Armed Forces Western Mindanao Command (WESTMINCOM), making him the fourth Indonesian released since the Norwegian captive was ransomed to freedom on Saturday.
In a press briefing, Major Filemon Tan identified the freed Indonesian as Herman BinManggak, a skipper of a Malaysian-flagged fishing vessel captured on August 3 at the Kinabatangan border area in Sabah.
Manggak, according to Tan, was released to the MNLF and was subsequently turned over to the Joint Task Force Sulu at around 11 a.m. He was then brought to Camp Teodulfo Bautista Station Hospital for proper medical examination and debriefing before he will be turned over to appropriate authorities.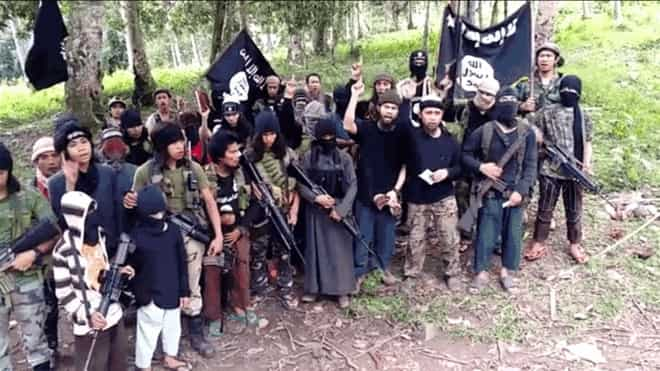 Prior to Manggak's release, three other Indonesian fishermen taken by the ASG in July while fishing off Lahad Datu were released on Saturday evening. The captives were identified as Lorens Koten, 34; Theodorus Kopong, 42; and Emanuel Arakain, 46.
READ ALSO: Mabuti naman! ASG releases more hostages after Sekkingstad
WESTMINCOM Spokesman Tan had then admitted that "There was no immediate detail as to the circumstances of their release except that they were reportedly freed by their Abu Sayyaf captors."
However, reports had it that an unnamed military official disclosed that just like Norwegian captive Kjartan Sekkingstad who was reportedly released after being ransomed, the Indonesians also regained their freedom after the Abu Sayyaf Group received an unspecified amount of ransom.
As of press time, it is believed that the ASG is still holding at least 16 more captives – six Indonesians, five Malaysians, and one Dutch.
READ ALSO: Iba talaga si Duterte: President gives powers to MILF leader to negotiate with Abu Sayyaf terrorists
AFP's spokesman in Manila, Brig Gen Restituto Padilla, on the other hand, had disclosed that the Abu Sayyaf group is no longer engaging the government forces.
"Their world is getting smaller and it will be soon before we will be able to solve this. We're not giving a timeline but we're doing our best to bring resolution to this problem that we face in relation to this group," Padilla promised.
RELATED: Sekkingstad narrates devastating experience under extremist ASG
Source: Kami.com.ph