- Regine Velasquez and Ogie Alcasid, also known as the Songbird and the Songwriter, are some of the most distinguished figures in the local music scene
- A Japanese cab driver got emotional when he had the Asia's Songbird as his passenger, which was documented by Alcasid in his Instagram account
- The couple is currently having a short vacation in Japan with their families and son
She is not Asia's Songbird for nothing - Regine Velasquez-Alcasid has become one of local showbiz's most renowned personalities worldwide.
Her trip to Japan with her family has made a Japanese cab driver teary-eyed, who admitted that he is a fan of Velasquez.
Her husband, singer/songwriter Ogie Alcasid, took to Instagram to post a short clip about their encounter with Raffy-san.
READ ALSO: Find out what made Ogie Alcasid emotional during his appearance on 'Magandang Buhay'!
"20 years ago, you were listening to OPM music?", he asked the driver.
OPM, which is the abbreviated form of Original Pilipino Music, has been the term for Filipino pop ballads that became popular during the 80s and 90s. It was during those periods where Ogie and Regine rose to fame, and the former is known to be the president of Organisasyon ng Pilipinong Mang-aawit (Organization of Filipino Singers) also known as OPM.
Raffy-san responded that he did sometimes, but noted that he was most interested listening to Regine.
"Very, very magandang boses," the driver commented in his broken Filipino.
READ ALSO: This policeman's version of 'One Call Away' will blow your mind; here's why
(Very, very nice voice.)
"Regine, number one!", he added, to which Ogie agreed to.
Amused laughter can be heard from behind, where Regine is sitting presumably with their folks.
READ ALSO: 8 shocking network transfers from local celebrities
Ogie panned the camera in Raffy-san's direction, and it can be seen that the old man has become teary-eyed having the Asia's Songbird as his passenger.
"That's Raffy-san," the singer/songwriter said as he turned the camera on him, before zooming it again on the driver's face.
"Domo origato, (Thank you very much,)" he added, to which Raffy-san replied with a "Walang anuman po. (You're welcome.)"
READ ALSO: This Japanese minister was taking piggyback rides on the site of a deadly storm
Netizens had nothing but positive things to say about the chance encounter.


Some even shared what some Japanese thought of Regine.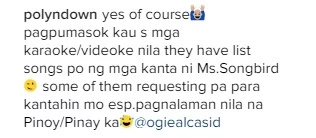 Ogie and Regine are currently in Japan for a short vacation with their parents and their five-year-old son Nate.
READ ALSO: Ogie Alcasid commends ASAP's production numbers
Source: Kami.com.ph