Python tries to swallow an antelope whole and dies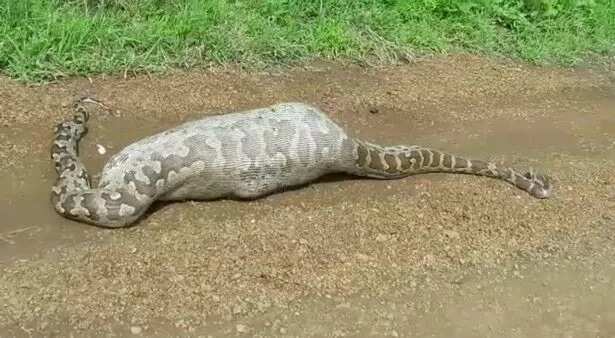 - Footage of a python that tried to swallow an antelope whole has surfaced on the internet
- The giant 6 meter long python strangled an antelope and tried to swallow it whole but the prey was so big the python died while trying to digest it
- It is not uncommon for pythons to die from such injuries

Snakes are known for their gluttony as is proven in the following video. This gigantic 6 meter long python was so greedy it decided to devour a whole full grown adult antelope whole!
Right after strangling the antelope to death it tried to swallow it whole, however the python was weighed down by the size of the hefty beast it just swallowed and soon after it died.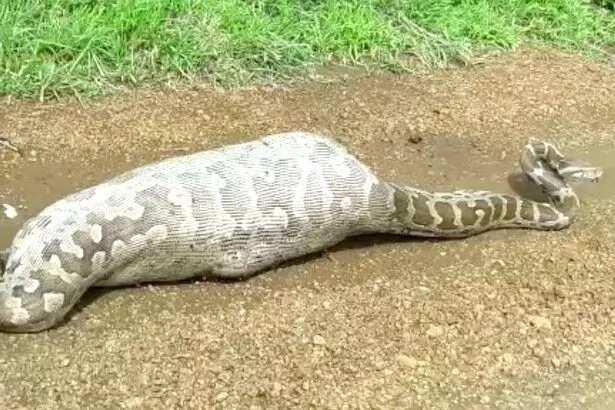 READ ALSO: Contestant for Australian TV show almost killed by huge python
Sunil Kumar, 28, who videotaped the dying python said: "I found the python lying on the road. It was struggling to digest the animal it had swallowed. It was one of the most spectacular moments I have ever witnessed as the python was unbelievably huge."
He adds that it seems that the python tried to regurgitate the snake but it failed to do so.
Deputy Conservator, R Senthikumaran noted: "It succumbed to the internal injuries caused by the swallowing the antelope."
READ ALSO: Death from above: bricks fall on top of chinese cafe-goers 
READ ALSO: Сhinese woman distracted by phone runs over 3 kids
Source: KAMI.com.gh