BREAKING: Hacked Comelec voters' data searchable online
While COMELEC and the NBI have announced that they have arrested the suspect of the massive hacking of COMELEC's database, a website has gone live which makes it easy to search over the private information of 70 million Filipino voters.
Prominent Filipino personalities such as Henry Sy and Chief Justice Sereno are among the many whose voter data has been uploaded and made searchable on the website.
The website allows anyone to type a name and search for the records of that person. The records include sensitive information of a voter such as complete birthday, exact address, passport details, and coded representations of one's biometrics.
The website itself explains why it uploaded the hacked data into a search engine. It says, "Maybe, at least now, government will start thinking about security of citizen's personal data."
The conversion of the massive hacked data dump into an easy searchable engine has alarmed voters and netizens. Social media is abuzz about fears of invasions of privacy, identity theft, and other malicious use of the hacked data. Comelec was also hit for downplaying the scale and threat of data theft.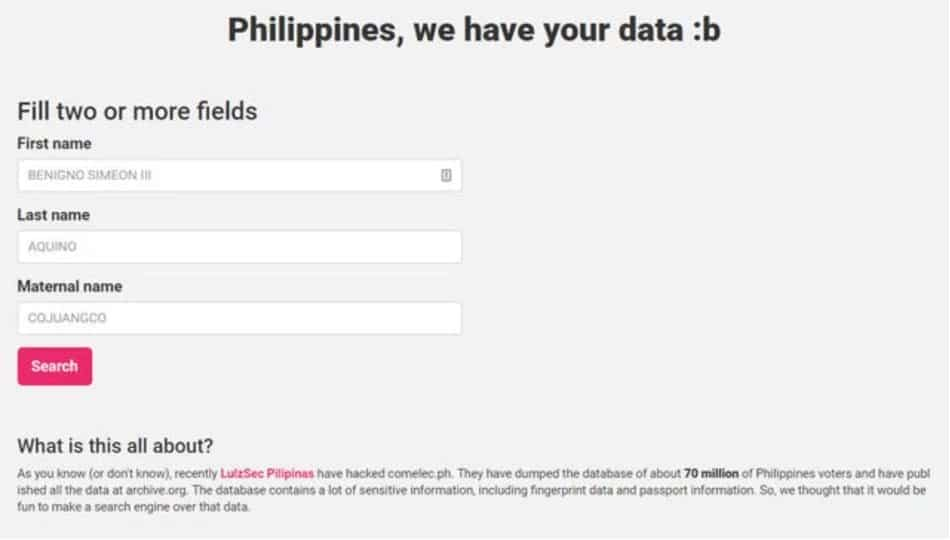 Tech firm TrendMicro earlier reported that the website hacking and the leak of the Comelec database put the information of 55 million registered voters in the country at risk . According to the firm, the hacking exposed the voters to identity theft. The report also said that the Comelec hacking may be the biggest government-related data breach in history.
The firm also found that passport details of 1.3 million overseas Filipino voters and 15.8 million fingerprint records were included in the massive data breach. Also leaked was a list of Comelec officials that have admin accounts.
Its scope makes it the biggest government-related data breach in history, surpassing the 2015 hacking of the US Office of Personnel Management which revealed fingerprints and social security numbers of 20 million Americans.
The firm added that what is more alarming was that the "crucial data is just in plain text and accessible to everyone."
Following the hacking by Anonymous Philippines of the Comelec website last March 27, a second hacker group called LulzSec Pilipinas released the poll body's entire database online. Three more mirror links were later added where the database could be downloaded.
READ RELATED: Comelec hacker, arrested
Source: KAMI.com.gh