Ever since Pia Wurtzbach won last year's Miss Universe, she has been all over. She's in different countries, magazines, and everyone's mind. Her words, "confidently beautiful with a heart" have inspired thousands of people.
There's one thing, however, that Pia forgot to add. She's confidently beautiful with a heart … but savage AF! She may promote love and world peace but when a girl has had it with all the bashing, she will definitely shut you down in a way Queen Pia can only do.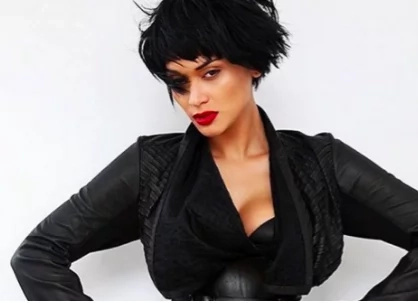 1. Ikaw mag-adjust
Regarding her bashers, Pia said that those who don't know how to speak English or Tagalog shouldn't comment on her post. She said that they should proceed on the other account because she tired of adjusting for everyone.

2. WHAT HAVE YOU DONE LATELY?
A basher asked why the victims in Syria aren't Pia Wurtzbach's project.  She bounced the question back asking, "What HAVE YOU DONE LATELY?" She also said in another comment that "don't control people's actions."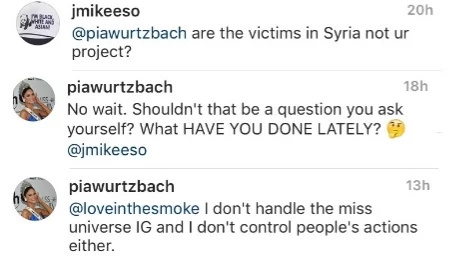 3. Buhay na buhay sa bikini
Pia posted a photo of herself wearing a bikini but it was one of her ploys to get the attention of her followers so she can post about her advocacies. She explained that she did that because whenever she posts bikini photos people instantly like her photos but when it's about her HIV advocacies, no one gives a damn.

READ ALSO: 6 Awesome PH transgender transformations that will blow your mind
4. Stop the hate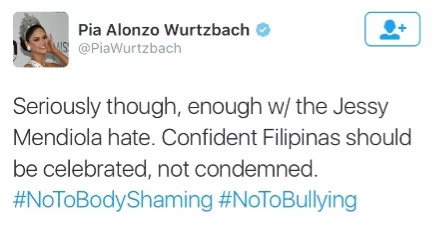 Jessy Mendiola got bashed after receiving the award for FHM's Sexiest woman. The Miss Universe decided to defend Jessy by tweeting that people should stop hating. She is against body shaming and bullying because "confident Filipinas should be celebrated, not condemned."
5. Buhay po nila yan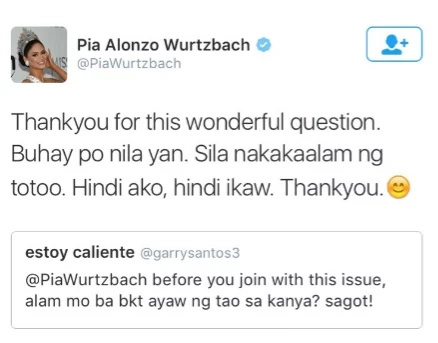 After her post calling to stop the hate against Jessy Mendiola, someone asked her if Pia understood why the people don't like her. She answered it in style by thanking that person for "this wonderful question." All she can say is that it's their lives and that she doesn't know the truth or the person questioning her. The only people who know the truth are the people involved.
READ ALSO: Daks: Luis Manzano penis huge?
6. Unhackable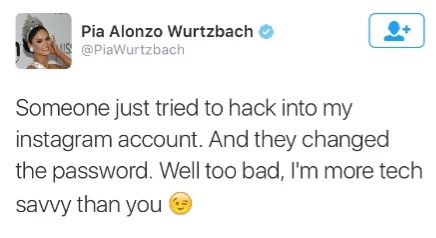 If you ever try to hack Pia, just don't attempt it. She'll always be more tech-savvy than you!
7. Not just a model
On her most recent post, someone commented that she just likes to model but she's not posting about any humanitarian mission. Pia burned this commenter with her statement: "bukas nasa UN ako. Ikaw? (Tomorrow I'll be at UN. You?)"

RELATED: Stunned Sunshine Garcia gets unexpected kiss from naughty Jayson Gainza
Source: Kami.com.ph