True to form, Facebook Vice President for Asia Pacific Dan Neary posted on a Facebook page on Wednesday (April 20) that the social network has opened its first Philippine office in Manila.
"Over 49M Filipinos access Facebook every month to connect with their friends and loved ones – this is over 91% of the internet population," said Neary. "The Philippines is a highly engaged mobile-first nation filled with people who are creative, entrepreneurial and have a strong sense of community."
Neary also said that apart from sharing unique moments that matter in their lives, Filipinos are utilizing the largest social network site for business purposes: "2 in 3 Filipinos are connected to a business Page on Facebook, and they're using the platform to discover new brands and products."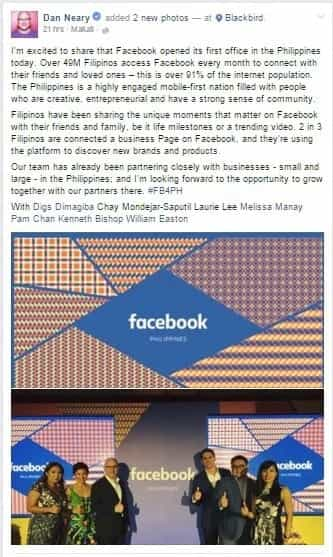 Jim Ayson in his article entitled "The Philippines as a Facebook nation," said that for a lot of people, "Facebook is the internet." It is no wonder therefore, that even before it opened its Philippine office, Facebook has already been partnering with several local businesses.
One of those businesses is the telecommunications company Smart. In partnership with Facebook, it was able to roll out Free Basics, a groundbreaking service that aims to make mobile Internet available to two-thirds of the world who are not yet connected. In the long run, it is hoped that the service will aid in uplifting the lives of these people thru access to online sources and services without data charges.
This year, PLDT Chairman and CEO Manny V. Pangilinan even met with Facebook founder and CEO Mark Zuckerberg at Facebook Headquarters in Menlo Park, California. It was reported that the two discussed ways to better introduce the value of the Internet to more Filipinos, and ultimately change their lives for the better.
In 2015, Facebook also partnered with Rappler for the initial launch of Instant Articles in the country and the launch of Free Basics Initiative.
The Philippine office is said to supervise Facebook's partnerships with businesses and other institutions.
Digs Dimayuga, who will lead the Facebook team in Manila, said: "The Philippines is a country that has seen a tremendous growth in connectivity in recent years, creating one of the world's most highly engaged online populations... I'm excited to lead the dynamic Facebook team in Manila, and to help our partners innovate and achieve their business goals."
Source: KAMI.com.gh