- Both President Rodrigo Duterte and Senator Leila De Lima have a fair share of celebrities who have been photographed with them even during the elections
- Some of them openly expressed their support while others were snapped during candid celebrations
- The ongoing tension between Duterte and De Lima intensified when the senator was removed from the justice chair of the Senate committee
When you pick up the local newspaper or check out news websites, it's impossible for you not to stumble upon an article about President Rodrigo Duterte or Senator Leila De Lima.
Every Filipino has the chance to comment on their series of tirades and continuous verbal fights. The Philippine media made it easy for everyone to be updated by documenting every step of the way.
But it seems like not only normal citizens were involved in this as numerous local celebrities have also weighed in on whose side they're taking.
READ ALSO: Nang-asar pa! Defiant convicts dedicate hilarious song to embattled De Lima
If you think you're the only one affected then take a look at these Philippine celebrities who have been photographed with either the head of the state or the ousted Senate committee justice chair.
1. Duterte with Vice Ganda
They first interacted on the comedian's Sunday comedy talk show, 'Gandang Gabi Vice.' Duterte, who wasn't a presidential candidate by that time, candidly talked about his love life, opinions, and even exchanged jokes that elicited laughs from the audience.
2. De Lima with Gwen Zamora
When the city of Parañaque hosted a sponsored mass wedding, Senator De Lima graced the event as a wedding sponsor. Together with her boyfriend, Councilor Jeremy Marquez, the Kapuso actress snapped a photo with the senator.
READ ALSO: De Lima vs Lacson! Fiery senators clash over Bilibid convicts' shocking accusations
3. Duterte with Aiza Seguerra
After openly supporting Duterte's campaign, Seguerra is now the appointed chairman of the National Youth Commission (NYC). While his wife, Liza Diño, is the chairperson of the Film Development Council of the Philippines (FDCP).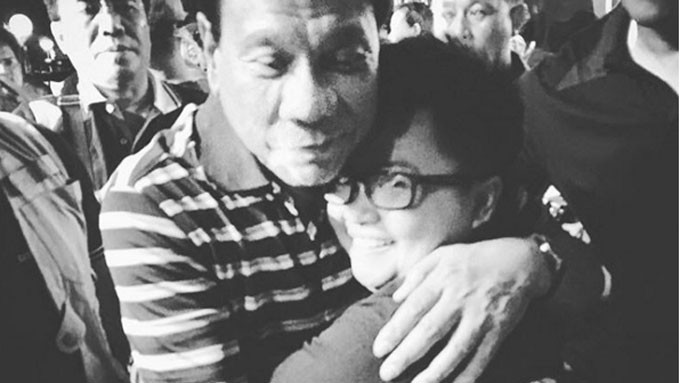 4. De Lima with Dulce Vida
Despite being photographed with De Lima, the veteran singer didn't hold back on criticizing her. On a Facebook post, she lambasted her for continuously opposing the president. In addition, she also called De Lima out for the rampant use of drugs in the National Bilibid Prison (NBP) during her term as the secretary of the Department of Justice (DOJ).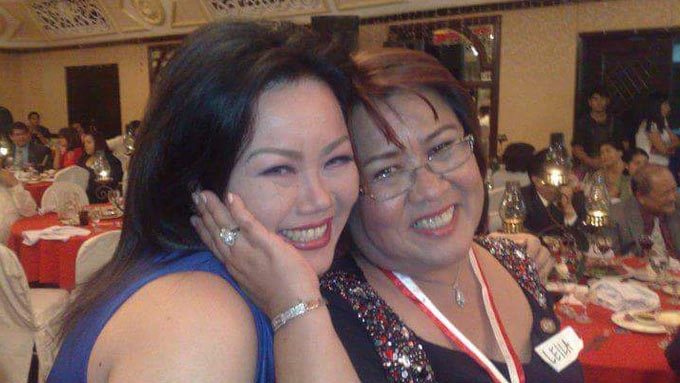 READ ALSO: Furious Duterte tells EU 'F*ck you!' for criticizing drug war
5. Duterte with Oyo Sotto
In the couple's respective Instagram accounts, they've stated the reasons why they were supportive to the former mayor of Davao. Kristine Hermosa expressed her belief in Duterte's ability to lead the country. For his part, Sotto commended his platforms for the younger generation.
6. De Lima with Korina Sanchez
The wife of Mar Roxas has been spotted several times with De Lima. The TV anchor supported not only her husband but the whole Liberal Party during the national elections.
READ ALSO: Disappointed netizens slam Manila Standard for headline "Witnesses finger Leila"
The Liberal Party, whom De Lima belonged to, had a number of celebrity supporters during the national election. Some of them were the love team Kathryn Bernardo and Daniel Padilla, Billy Crawford, and Maricel Soriano. On the other hand, celebrities like Julia Barreto, Robin Padilla, and Chito Miranda expressed their support on the campaign of Duterte for free.
Source: Kami.com.ph