EDITOR'S NOTE: This column contains themes, images and language that are not be suitable for minors. Parental guidance is strongly advised.
A video of two alleged drug addicts engaged in a dangerous knife fight in the middle of the street in Tondo has gone viral, with many netizens outraged by the actions and behavior of the two men.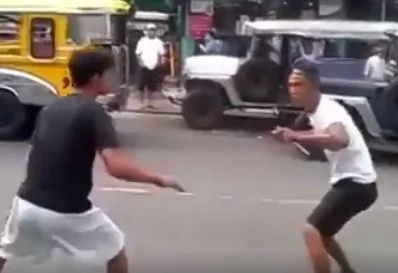 The video shows both Tondo residents holding knives with the other one holding an extra weapon – a steel object on his other hand. They could also be heard swearing at each other.
READ ALSO: Sobrang galing! Impressed Pinoys go crazy over talented Christian Cuevas of 'The Voice'
The two repeatedly tried to stab and slice each other with their knives as the witnesses scream their lungs out due to their fear for the young men's lives. Some of the people could also be heard begging the men to stop fighting while others tried to stop the fight by pretending that the police are already in the area.
One of the alleged drug users was wounded with the knife as the person who was taking the video expressed his shock at what was happening.
READ ALSO: #Nakakatakot: Innocent little girl almost falls to death while playing at tall building's window
The video ended after one of the fighters was wounded, and many netizens are wondering what happened to the alleged addicts.
Many online users also slammed the two men, not only for using drugs but also for endangering the lives of innocent people by trying to kill each other with knives.
On the other hand, several netizens were amused and entertained with the dangerous fight, commenting that the video should have been longer and should have shown if one of them died.
Others urged the two men in the video to fight in a more secluded place next time where no innocents would be involved.
SHARE this shocking video with your family and friends!
READ ALSO: Huli sa akto! Brave barangay officials catch notorious thief in Mandaluyong
Source: Kami.com.ph