- "The Voice" contestant Christian Cuevas impressed the show's coaches and even the Filipino online community
- Many Pinoys praised Cuevas' effortless talent
- Filipinos also noticed the distinctive singing voice of the contestant
The Filipino online community was extremely impressed by the blind audition performance of Christian Cuevas, a 20-year-old singer from Orlando, Flordia.
The singer sang a rendition of Michael Bolton's popular song "How Am I Supposed to Live Without You?" Just 10 seconds into his incredible performance, country superstar Blake Lively and Maroon 5 vocalist Adam Levine turned their chairs to express their desire to coach him.
In the end, Cuevas chose RNB singer Alicia Keys as his coach. Miley Cyrus was the only coach who did not turn her chair, saying that she is not well-suited to coach his singing voice.
READ ALSO: Unexpected PH celebrity break ups worse than Brangelina
Many Pinoy netizens were swept away by Cuevas' impressive voice and singing style. They commented that his talent seems to be very natural and effortless.
Other Filipino online users also pointed out that the four celebrity coaches of "The Voice" 2016 – Levine, Blake, Cyrus and Keys – have a playful and natural chemistry with each other. One of the biggest reasons for the popularity of the show is the star power of the coaches and their memorable interactions with one another.
READ ALSO: 5 outrageous celebrities who insulted the Philippines
Some Pinoys also showed their appreciation for Cuevas' range and distinctive voice. As Blake commented, one of the most important things a singer needs in order to make it big in the music industry is a unique voice that the audience would love and recognize instantly.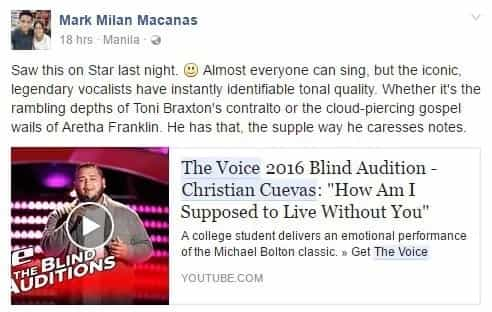 Do you think that Christian Cuevas will win "The Voice" 2016? Who is your favorite among the contestants so far? Who do you think is the best coach in "The Voice?"
SHARE these reactions and this viral video performance of Christian Cuevas with your family and friends!
READ ALSO: Astig Pinoy! This restaurant in Tagaytay serenades customers while enjoying hot 'Bulalo'
Source: Kami.com.ph